New, affordable organic store opens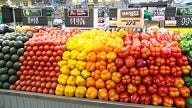 Posted By: Sarah Fili
sfili@klkntv.com
A fresh option just emerged in Lincoln's grocery store scene. It's called fresh thyme and the main focus is offering natural and organic groceries, without breaking the bank.
Fresh Thyme is opening its doors at 52nd and O, adding another organic food store to north Lincoln's already crowded grocery store list. The new shop boasts a farmers market type spirit, mixed with a traditional grocery store's convenience.
"Our moniker is healthy food healthy values. We feel like we're really going to bring good food to the masses at reasonable pricing. So we don't have to break the bank to find affordable, organic and natural food," Dave Bernier, the general manager, said.
You're probably wondering what makes this store different than the others nearby, like Hy-Vee, Whole Foods and Natural Grocers. Fresh thyme says – the selection.
"We try to not overwhelm you with 100,000 items, we carry about 25,000 items in our store. So we want to be the best at those 25,000 items," Bernier said.
The store has more than 400 bulk bins so you can make your own portions. They also carry local items.
"Clearly there's times of the year where you can't buy local produce, but whenever we can we absolutely will make sure that we are a big part of the local produce world here in Nebraska. When we're in full swing here in Nebraska you can expect to find all of your local favorites," Bernier said.
I asked why the franchise chose such a grocery dense neighborhood for its newest location. The answer?
"We understand the traffic on this road here itself is tremendous, and we want be where the action is! So where is local and easy for customers is where we want to be," Bernier said.
Fresh Thyme is open from 7am to 10pm every day. Those hours kick in with the grand opening Wednesday. They've got a special deal for the first 200 people in the doors- 20% off your grocery purchase. For every 100th person in the store- free groceries.