New amenities for Husker football season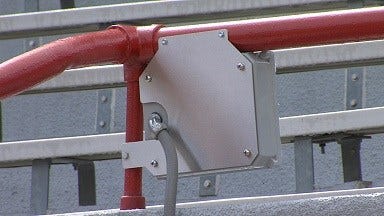 Posted By: Jenn Hatcher
jhatcher@klkntv.com
As the 2014 Nebraska Football season kicks off this upcoming Saturday against Florida Atlantic, the Nebraska Athletic Department is excited to unveil the many fan experience improvements that have been made within Memorial Stadium this past summer.
Sound System Replaced in Memorial Stadium:
As part of Memorial Stadium improvements, the new sound system is a replacement of the previous 20-year old sound system. The new, single-point source sound system is housed in the North end zone and will provide greater clarity and consistency of sound for all fans inside Memorial Stadium. The sound system will continue to be fine-tuned each game and is expected to be fully functional at the start of the first game.
WiFi Inside Memorial Stadium Increases Connectivity:
The explosive growth of smartphones, tablets and other wireless devices in the past decade has fueled demand for continuous connectivity. In past years, connectivity and cell phone service at Memorial Stadium has been limited. The WiFi replaces a much smaller system that had been previously installed, and the new wireless network system will allow fans better access to Internet applications from their smartphones, regardless of carrier or location. The new system should relieve stress to cellular networks for voice calls and text messaging. The new system will eventually extend the WiFi into parking lots and campus garages.
Our long-term goal for WiFi is to provide all 90,000-plus fans in Memorial Stadium with better connectivity to their mobile devices. In order to accomplish this goal, we have installed the largest collegiate only stadium system available. At this time, the WiFi structure has been fully installed (800 antennas in Memorial Stadium, under East/West Balconies, in handrails in North/South stadiums), and at the first home football game against Florida Atlantic, when all 90,000-plus fans are in stadium, we will be able to test/adjust the system, as utilization will determine necessary adjustments for access (i.e. some areas of stadium may require more access points). Access points will be adjusted and improved for fans each game this season in order to provide fans with the best connectivity possible.
In order to connect to the new wireless system, fans inside Memorial Stadium will just need to look for the identifier "FanXP" on their wireless settings and connect. The Verizon DAS has been enhanced to improve overall performance. Additionally, both AT&T and US Cellular are adding DAS equipment to improve their customer's experience.
WiFi will be on in a testing capacity for the first game or two, and we expect there will be areas that we will need to fine-tune as the season continues.
IPTV Improvements to Enhance Digital TV Signal:
IPTV (Internet Protocol television) will be fully functional for the first home game, which will allow for an improved digital TV signal to all TVs in the stadium and the suites will have an improved surround sound features.
Nebraska Huskers App to Include Real-Time Stats, Video and Stadium Information:
As the WiFi is fine-tuned throughout the season, we will be in the process of rolling out additional features through the Official Nebraska Huskers App, such as exclusive streaming video to fans mobile devices while in the stadium. The goal is to roll these additional features out as quickly as possible and by mid-season.
The Official Nebraska Huskers App is available now in the Apple App and Google Play stores, and has news, roster information, schedules, and photo galleries for all of Nebraska's 24 sports. Daily video and streaming audio content is available for purchase ($4.99 one-time annual fee) via an in-app upgrade. The app can be found by searching "Official Nebraska Huskers" in the app stores. There is an iPad version available that does not does not support some in-game features. In addition, free radio audio will still be provided on Huskers.com.
Game-day features that will be launched in the app for all fans will include news, roster/bios, schedules, photo galleries, real-time stats, stadium information such as maps of concessions and restrooms and a grouped Social Media page for interactive voting, news, and trending players. All in-stadium features will be free to access for fans via the app, but most will not be ready for the first game, including the in-game video.
Exciting New Fan Experience Improvements for 2014 Football Game Day:
There will be some added elements to the Tunnel Walk for the 2014 season, so Be Ready! In addition, some very special events will take place this season: The UNL Cornhusker Marching Band has refined their pre-game show that will feature new formations; The September 20th football game against Miami will feature tributes and a reunion of the 1994 National Championship team; Nebraska Athletics will hold its first ever "Weekend Of Champions" reunion for the Rutgers game that will recognize teams which are celebrating decade milestones, including the 1984 Wrestling team, the 1984 Women's Track and Field team, the 1984 Softball team, the 1994 Men's Gymnastics team, and the 2004 Bowling team; and Nebraska will celebrate its Veterans & Military Day Salute game on Saturday, November 1st against Purdue with new added elements this year.
For Fans Requesting Assistance:
Nebraska Athletics will have four customer service booths/kiosks: one inside the East and West concourses and one outside the East and West concourses.

At the game, tell a fan host about the sound and connectivity in your section, we need your input in order to improve services each week.

Text Messaging Service: For fan assistance, text to 69050 and start your message with UNLPD, standard text message rates will apply.

After the game, Go to Huskers.com and click on "tell us about your experience" located at the bottom of the page.
Courtesy: Husker Athletic Department