New bill brings hope to cigar bar owners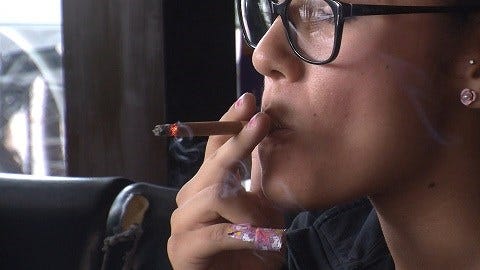 Posted By: Megan Conway
Last August, the Nebraska Supreme Court ruled that the exemption cigar bars have allowing customers to smoke is unconstitutional, but supporters of letting people light up in the bars aren't backing down.
"It's little places like these that are kind of an oasis for smokers to come to," says Jason Hutchison, general manager of Jake's Cigar Bar.
Fast forward to Wednesday, William McGinn and Mike Kelley, Omaha lawyers who represent nine of Nebraska's eleven cigar bars, asked the Liquor Commission to allow the bars to keep their special licenses, but they were denied.
"Despite the Supreme Court's ruling on the unconstitutionality of it, in the mean time it's our position that our licenses will be valid until October 2015," says McGinn.
Now, bring in the Nebraska Legislature. A new bill introduced would allow smoking in cigar bars, saying it wouldn't violate Nebraska's Clean Indoor Air Act. It's from Sen. Tyson Larson of O'Neil. Joining him on the issue was Sen. Colby Coash of Lincoln.
Jason Hutchison, general manager of Jake's Cigar Bar in Lincoln says he wants to thank those Senators who are standing up for the business and for those Senators who might be on the fence about the issue, he has advice for them.
"Just come in here some night and talk to the clientele and talk to the customer and see what they think because they're the ones you're representing," says Hutchison.
Jake's has been open for 15 years and Hutchison wants something to be clear. Even if smoking is banned, the bar will not be closing.
"Until I hear from the Liquor Commission, we're still going to allow smoking to occur," says Hutchison.
Jake's Cigar Bar also says resolving the issue will be best for their customers. Now, the lawyers representing the bars say they will be filing an appeal this week to try and win this fight.