NEW DETAILS: Woman suspected infidelity prior to stabbing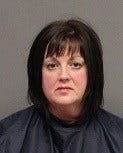 Posted By: Jenn Schanz
jschanz@klkntv.com
Lincoln Police say 50–year–old Teresa Gillispie, the Lincoln woman arrested for allegedly stabbing her husband Sunday night, suspected he was cheating.
Deputies say it happened in the couple's home near 80th and Leighton Sunday night.
Officer say Teresa stabbed her husband, 51-year-old John Gillispie, six times in the chest, torso, forearm and thumb with a filet knife.
They say he was napping at the time.
According to Officer Katie Flood of the Lincoln Police Department, Teresa suspected John of infidelity, which may have fueled the alleged attack.
Teresa had to receive several stitches for cuts to her hands. She was arrested without incident for First Degree Domestic Assault and Use Of a Weapon to Commit a Felony.
Flood says John Gillispie is expected to recover.