New Developments for 48th & "O"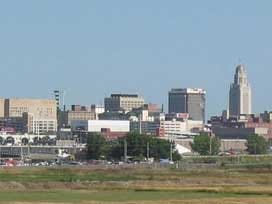 Mayor Chris Beutler announced Wednesday that CVS Pharmacy and Staples, an office supply retailer, will build new stores on the northeast corner of 48th and "O" streets. The Mayor said all outstanding legal claims on the site have been settled, and the development is occurring without the City's use of tax increment financing or eminent domain.
The City is declaring its two lots at the intersection surplus and selling them to the Sup family for $1.335 million. The buyers will add a public art project valued at $100,000 on the corner, making their total investment $1.435 million. The sale also allows for further redevelopment to the north.
The Mayor thanked the members of the MOVE (Mayor's Opportunities for a Vibrant Economy) Council for reviewing the redevelopment area. The Council recommended that an access off of "O" Street was necessary to make the corner commercially viable, and the City pursued a joint access option. Mayor Beutler said the road safety project at 48th and "O" also was key to the redevelopment. He said the project allowed for the closing of seven of nine access points in the area and led to better traffic flow and fewer accidents.
The new CVS Pharmacy store will be the retailer's fifth location in the City. The company started in Massachusetts in 1963. The new Staples store will be the company's first in Lincoln. The office supplier opened its first store in 1986 in Massachusetts.
In the last few years, the formerly blighted area near the 48th and "O" intersection has seen the development of new Westgate Bank, Braeda and Runza restaurants, and Walgreen's and Hy-Vee stores.