New housing development near 9th and D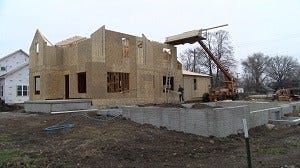 Things are shaping up south of downtown.
A new housing development is being built near the area of 9th and D.
It's called Cooper Commons and it's sponsored by Neighborworks Lincoln.
The project will feature seven homes.
There will be five that will stand alone and a townhouse.
The site was home to Zion church, which burned down in 2007.
"We think this is a great opportunity for us to have a role to help develop this neighborhood and the community further," NeighborWork Lincoln CEO Michael Renken said
Construction began earlier this year.
You can see workers have made tremendous progress already on two of the houses.
The neighborhoods south of downtown are a good focus for community developers.
They said those older areas need new life breathed into them.
Supporters said this project is also meeting a great need in Lincoln–affordable housing.
"We absolutely need housing. We're one of the more dense neighborhoods in the city, but there are a lot buildings that are vacant," Everett Neighborhood Assoc. President Matt Schaefer said.
"It's actually a model. It creates a model for what types of things can happen in the area," South of Downtown Community Development Organization Director Shawn Ryba said.
The non profit hopes to have people moved in by late summer.