New position for LPD Chief Casady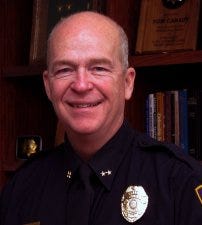 Mayor Chris Beutler today announced a new structure for the City's public safety services and named Lincoln Police Chief Tom Casady as the new Public Safety Director with responsibility for the Lincoln Police Department and Lincoln Fire and Rescue. With the cooperation of the Lancaster County Board and the Sheriff's Office, Casady also would oversee 911 Emergency Communications, now a division of the City Finance Department. Assistant Police Chief Jim Peschong has been named Interim Police Chief. Interim Fire Chief John Huff and 911 Communications Coordinator Julie Righter will continue to serve in those positions.
The changes will be effective June 1, and Mayor Beutler will ask the City Council to support the new management concept for a two-year period. "That will give us time to see how the new arrangement is working, whether we are achieving our goals and meeting our performance indicators and how the change impacts our budget," Beutler said. "If we determine the new model is a good fit, we will make it a permanent arrangement."
Casady has been Police Chief since January 1994. He served as Lancaster County Sheriff prior to that appointment. He began his law enforcement career as a Lincoln Police Officer in 1974. He has a bachelor's degree in criminal justice from the University of Nebraska-Omaha, and a master's degree in political science from the University of Nebraska-Lincoln.
"I have chosen Tom for this position because I believe the skills he has demonstrated as Police Chief will be extremely valuable to our entire public safety team," Beutler said. "He is a strong communicator and will work well with neighborhoods on their public safety needs. Under his leadership, LPD has contributed to a low crime rate and increased livability through innovative community policing efforts. Tom also has made Lincoln a national leader in the use of technology, particularly GIS applications, to provide the instant information that helps prevent and solve crime.
"I'm excited about the new challenge Mayor Beutler has asked me to accept," said Casady. "This change gives us an opportunity to take a new look at budgetary and management issues. The new model also provides a common direction for all the public safety services and promotes collaboration, cooperation and joint operations. I hope I can bring a fresh perspective to these important City services.