New State Patrol Crime Lab now open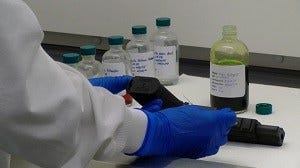 Posted by: Marlenia Thornton
mthornton@klkntv.com
The Nebraska State Patrol's new crime laboratory out near the Airport, is now open for business.
They celebrated its opening Thursday.
NSP Superintendent Colonel Bradley Rice said the building will help improve the lab's workflow.
"We're very hopeful that we can move much of those backlogs down by the end of the year to get within some cases a four week turnaround," Nebraska State Patrol colonel Bradley Rice said.
The lab's drug chemistry and biology units are two of the most backlogged.
Right now, it takes about four months to get back toxicology results.
The average wait time for DNA is five months.
Part of the problem was lack of space and employees have to wait to use equipment.
The new facility is 28,000 square feet, which is more than 10,000 square feet larger than the old one.
The lab's director believes the space will improve efficiency and help further growth.
"We do not have additional resources yet, but we do have room for additional resources in this building which we did not have in the old building. So, the potential exists," Nebraska State Patrol Laboratory Director Pam Zilly said.
The total venture cost $11.2 million.
It works an average of 4,000 cases a year and serves 160 different agencies across the state.
Scientists said with the new space they will better serve Nebraskans and improve public safety.
"Facilities like this means we'll be to do a better job of catching the bad guys and bringing them to justice, which means victims will get that outcome they're looking for," Governor Pete Ricketts said.
The state patrol is leasing the land from the Lincoln Airport Authority, which helped build the facility.