No. 12 Nebraska Topples Michigan State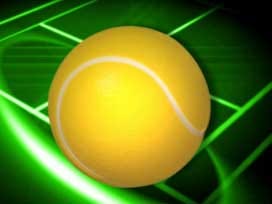 Posted by: Sports
The Nebraska women's tennis team (19-4, 8-1 Big Ten) defeated Michigan State (10-14, 0-9 Big Ten) by a score of 6-1 on the road Sunday. The two teams have met three times and Nebraska leads the series 2-1. The Huskers sealed the doubles point en route to almost sweeping the singles matches to grab the victory.
Nebraska grabbed victories at the No. 1 and 2 positions in doubles to secure the point at 1-0. No. 6 Huskers Patricia Veresova and Mary Weatherholt defeated Michigan State's Marina Bohrer and Catherine Parenteau 8-5 at the No. 1 and Nebraska's Stefanie Weinstein and Janine Weinreich toppled the Spartans' Nicole Herzog and Michaela Silesova 8-2 at the No. 2 spot. The No. 3 position was won by Michigan State's Emily Meyers and Julianne Gruber over Nebraska's Maggy Lehmicke and Izabella Zgierska 8-2.
The Huskers snatched all but one singles victories to win the match 6-1. At the No. 1 position Nebraska's No. 14 Mary Weatherholt edged out Michigan State's Marina Bohrer 6-0, 6-2 and fellow Husker Patricia Veresova toppled the Spartans' Olga Chernova 6-1, 6-2 at the No. 2 spot.
Stefanie Weinstein of the Huskers knocked off Spartan Catherine Parenteau 6-4, 6-1 at the No. 3 position and teammate Maggy Lehmicke for Nebraska defeated Nicole Herzog of the Spartans 6-3, 6-3 at the No. 4 position.
Michigan State secured their only point at the No. 5 spot where Emily Meyers ousted Nebraska's Izabella Zgierska 6-4, 8-6. Nebraska's Maike Zeppernick defeated Michigan State's Michaela Silesova 6-1, 6-2 at the No. 6 position.
The Huskers play their final regular season away match against Minnesota on Friday, April 19 at 2 p.m. in Minneapolis, Minn. before returing to Lincoln, Neb. to host their final home opponent of the season Wisconsin on Sunday, April 21 at 11 a.m.
No. 12 Nebraska – 6
Michigan State – 1
East Lansing, Mich.
Singles
1. No. 14 Mary Weatherholt (NEB) def. Marina Bohrer (MSU) 6-0, 6-2
2. Patricia Veresova (NEB) def. Olga Chernova (MSU) 6-1, 6-2
3. Stefanie Weinstein (NEB) def. Catherine Parenteau (MSU) 6-4, 6-1
4. Maggy Lehmicke (NEB) def. Nicole Herzog (MSU) 6-3, 6-3
5. Emily Meyers (MSU) def. Izabella Zgierska (NEB) 6-4, 8-6
6. Maike Zeppernick (NEB) def. Michaela Silesova (MSU) 6-1, 6-2
Doubles
1. No. 6 Patricia Veresova/Mary Weatherholt (NEB) def. Marina Bohrer/Catherine Parenteau (MSU) 8-5
2. Stefanie Weinstein/Janine Weinreich (NEB) def. Nicole Herzog/Michaela Silesova (MSU) 8-2
3. Emily Meyers/Julianne Gruber (MSU) def. Maggy Lehmicke/Izabella Zgierska (NEB) 8-2