No. 2 Concordia women defeat Midland in GPAC quarterfinals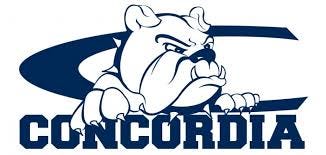 Posted by: Sports
sports@klkntv.com
Courtesy: Concordia Athletics
SEWARD, Neb. – Midland was merely a speed bump in the Concordia University women's basketball team's quest for a second GPAC tournament championship this season. Winner of the regular-season title, the Bulldogs remained unbeaten at home by knocking out the visiting Warriors, 88-69, inside Walz Arena on Wednesday night.
Eleventh-year head coach Drew Olson's squad has moved to 29-2 overall via its third victory over Midland in 2016-17. This meeting was more highly contested than the previous two.
"Part of it might have been that this would be the last game of their season," Olson said. "Midland battled a little bit more. I thought they did a really nice job of handling our pressure in the second half. They hurt us down low at times, but overall, I felt like we had the pace where we wanted it where they couldn't ever come back in that second half."
Junior sniper Dani Andersen is heating up at the right time. After making all four of her attempts in the regular-season finale versus Dordt, she followed it up by netting 19 points while going 5-for-9 from beyond the arc. On the interior, freshman Philly Lammers returned to her dominant ways. She burned Midland for 19 points and eight rebounds.
Seven of Lammers' boards were of the offensive variety on an evening when Concordia held a 48-37 rebound advantage. The Bulldogs gobbled up 21 offensive boards, leading to 20 second chance points.
(Our frontcourt play) opens up a lot," Andersen said. "They were trying to double in the post because Philly's such a beast. That just opens up the skip pass and opens up the extra pass for a shot. It creates more offense for us."
Midland (15-15) managed to limit its turnovers to 19, but it shot only 33.9 percent (19-for-56) from the floor. The Warriors kept themselves from being 40-pointed this time around by making 23-of-28 shots from the charity stripe. Midland still failed to make a serious threat. Its slimmest deficit during the second half was 16.
In a workmanlike win, Andersen's splurge from the perimeter stood out. During one stretch of just over two minutes in the second quarter, she plashed in three treys while dispatching of her former team.
The Bulldogs and their pesky defense had star Warrior Joelle Overkamp's number this season. In two regular-season matchups against Concordia, Overkamp went a combined 4-for-21 with nine points. She entered this week averaging 16.7 points per game. She found more breathing room on Wednesday, totaling 22 points on 7-for-13 shooting. Teammate Amanda Hansen (10-for-11 foul shooting) recorded a game high 26 points.
Bulldog sophomore Quinn Wragge (10 points, nine rebounds) just missed a double-double. She was a perfect 3-for-3 from the field and 4-for-4 from the free throw line. Off the bench, senior Erin Vieselmeyer added eight points and six rebounds. Concordia played without starting junior guard Mary Janovich for the second-straight outing.
On the hunt for their second GPAC tournament title in three years, the Bulldogs will host Northwestern (19-10) at 3 p.m. CT on Saturday in the conference semifinals. The other side of the bracket pairs second-seeded Dakota Wesleyan (25-5) with Cinderella No. 6 seed Doane (16-15). Should Concordia win on Saturday, it would then host the GPAC championship game at 7 p.m. CT on Tuesday (Feb. 28). No matter the outcome, the Bulldogs have clinched a national tournament bid courtesy of earning the GPAC regular-season title.
"It's going to be a great game. "They're a really scary team," Olson said of the Red Raiders. "They're so talented and it's been forever since we played them. It's going to be a really tough team and probably a great game."