No. 5 Huskers Win Five Set Thriller Over No. 14 Minnesota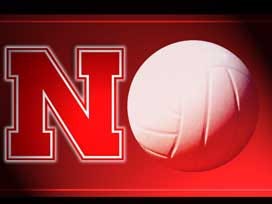 The No. 5 Nebraska volleyball team (15-1, 8-0) posted a 3-2 (28-30, 19-25, 25-10, 25-12, 15-11) victory over No. 14 Minnesota Saturday night at Williams Arena. In front of 9,334 fans, the Huskers overcame a feisty Gopher squad in their fifth five-set win of the season.
Gina Mancuso led NU for the match with 18 kills on 46 attacks. Morgan Broekhuis and Hannah Werth both had 15 kills, with Werth notching her second double-double of the weekend with 17 digs. Mancuso also tallied a double-double as she had 15 digs. Lauren Cook tabbed 45 assits for NU while Lara Dykstra had a team-high 23 digs.
Nebraska hit .243 for the match while Minnesota hit .111. The Huskers out-blocked the Gophers 17-8 and had 85 team digs.
The Huskers and Gophers opened the first set on fire and fighting point-for-point as there were 15 tie scores and seven lead changes. Nebraska went ahead 3-2 on a service ace by Mancuso, but Minnesota came back to tie it six different times before taking a 12-9 lead and forcing Nebraska to call a timeout. Broekhuis cut Minnesota's lead to 15-12 on a kill, but the Gophers answered to take an 18-13 lead. Nebraska then posted a three point run led by back-to-back kills from Werth and Mancuso to make it 18-16, Minnesota. The Huskers took a 23-20 lead, but Minnesota would not back down. The Gophers and Huskers tied four different times before Minnesota took the first set 30-28.
Mancuso led NU in the first set with eight kills on 20 attacks. Werth had five kills and seven digs, while Cook tabbed 11 assists.
The intensity did not let down in the second set as the Huskers took a 3-2 lead, but saw the Gophers come back to take a 9-8 lead and eventually go up 15-11 before a media timeout. Uncharacteristic errors plagued NU in the second set as the Gophers took a 19-12 lead and forced Nebraska to call a timeout. A service ace and kill by Broekhuis made is 19-15, Minnesota as Nebraska started to fight back to eventually make it 20-17, Gophers. Minnesota went on to take the second set 25-19 and lead the match 2-0 heading into intermission.
In the second set, Mancuso had four kills, while Werth had three of her own. The Huskers only notched ten kills for the set with eight hitting errors. Nebraska out-dug Minnesota 15-13, but the Gophers out-hit NU .286 to .056.
The Huskers jumped ahead 5-2 in the third set and took the momentum to a gain a 13-7 lead over the Gophers. Nebraska was catapulted from a 10-0 run to go up 17-8. NU continued dominating to take the third set 25-10, with the match at 2-1.
Nebraska was led by Broekhuis in the third set with five kills of her own. Brooke Delano had three kills, while Mancuso had two. Cook tabbed 10 assists as the Huskers hit .345 for the set and had 17 team digs and four blocks. The Gophers were held to a -.111 hitting percentage and made 11 hitting errors in the third set, while the Huskers only made two errors.
Nebraska carried the momentum into set four while taking a 10-4 lead and extending it to 14-6 over Minnesota and forcing the Gophers to call a timeout. The Huskers posted five unanswered points, leading them to a 25-12 fourth-set win and tying the match 2-2.
Broekhuis once again led NU in the fourth set with five kills, while Werth had three. Nebraska notched 21 team digs, with Cook and Lara Dyktra each tallying five of their own. The Huskers boasted six team blocks and hit .393 for the set, while Minnesota hit -.022.
In the fifth set the Huskers jumped to a 4-1 lead over the Gophers. Nebraska then went on to lead Minnesota 9-6, but the Gophers inched back to make it 11-8.
Broekhuis notched four kills in the fifth set, while Werth had three and Mancuso tallied two.
The Huskers return home on Wednesday, Oct. 19 to host the Iowa Hawkeyes at the NU Coliseum at 7 p.m. The match will air live on NET and BTN.com.