No. 9 Nebraska beats Ohio State, snaps three-match losing streak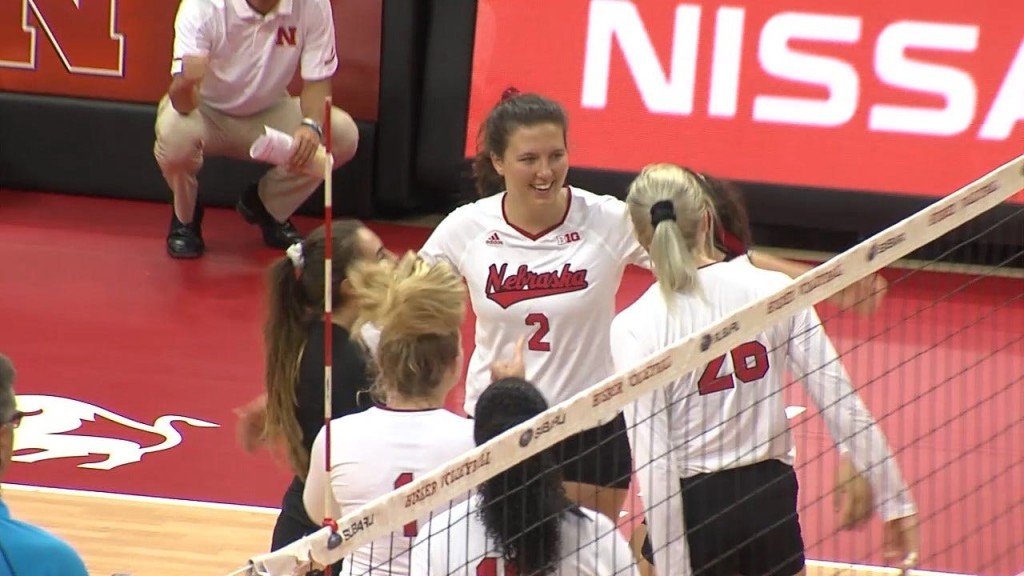 award@klkntv.com
Courtesy: UNL Media Relations
The ninth-ranked Nebraska volleyball team topped Ohio State, 3-1 (25-15, 23-25, 25-12, 25-9), on Wednesday night in front of a crowd of 1,185 at St. John Arena.
The Huskers (16-5, 7-4 Big Ten) snapped their three-match skid behind a career-high 16 kills from Lauren Stivrins. The sophomore middle blocker hit .789 on the night with just one error on 19 swings. Four Huskers finished with double-digit kills. Mikaela Foecke had 12 kills, Jazz Sweet had 11 and Lexi Sun had 10. Foecke hit .345 and Sweet hit .391, as the Huskers hit .407, their second-highest mark of the season. Nebraska's 10 attack errors were its fewest in Big Ten play this season.
Nebraska's defense was just as strong, holding Ohio State (12-11, 3-8 Big Ten) to .083 hitting. The Huskers had 10 blocks, led by six from Foecke and five from Callie Schwarzenbach, who also had six kills. NU was blocked only five times and had a 59-43 edge in digs. Kenzie Maloney had 14 digs, while Nicklin Hames had 13 digs to go with 44 assists. Foecke and Sun had 11 and 10 digs, respectively, to finish with double-doubles.
The Big Red finished with seven aces, four of which came from Maloney. Megan Miller had two.
Vanja Bukilic had 11 kills for the Buckeyes. Bia Franklin added 10.
Set 1: Three kills by Sweet and a pair of blocks by Foecke and Stivrins gave the Huskers an early 7-3 lead. Stivrins pounded three kills to help the Huskers double up the Buckeyes at 12-6. A fifth kill by Stivrins and a Buckeye hitting error made it 20-13 Huskers. Foecke, Stivrins and Sun strung together kills at the end to help NU take set one, 25-15. Stivrins had seven kills, and the Huskers hit .481.
Set 2: Ohio State took a 10-6 lead after a 7-1 run. The Huskers trailed 12-7, but Schwarzenbach combined on a pair of blocks and Sun had a kill and a block to pull NU within 13-12. Ohio State clung to its lead until Sun put a kill to the corner to tie the set at 19-19. Sun and Schwarzenbach then stuffed a Buckeye attack for a 20-19 Husker lead. After an OSU timeout, the Buckeyes scored a 3-1 run to go up 22-21 and led 23-22 before Stivrins tied the score with her 11th kill. But Ohio State grabbed set point with a Witte kill and won 25-23 after a Husker hitting error.
Set 3: The Huskers grabbed a 9-3 lead with Maloney serving three aces as part of a 6-0 run. Foecke tallied back-to-back kills, and Miller served an ace to make it 12-4 Big Red. The Huskers maintained at least a seven-point lead the rest of the way and went up 21-11 on kills by Sweet, Stivrins and Foecke. Stivrins surpassed her career high in kills with two more as the Huskers closed out a 25-12 win. NU hit .480 in the set and held the Buckeyes to .061.
Set 4: Nebraska got off to a strong set, taking a 7-1 lead with kills by Schwarzenbach and Sweet and two blocks by Foecke and Schwarzenbach. The Huskers dominated set four, finishing the match with a 25-9 win. The Huskers hit .600 with 12 kills and no errors on 20 swings. Ohio State hit -.037.
Up Next: Nebraska hosts No. 6 Illinois at 7 p.m. on Saturday at the Bob Devaney Sports Center.