Update: North Lincoln Kwik Shop robbed at gunpoint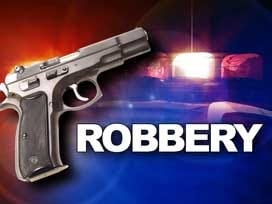 By: KLKN Newsroom
kbremer@klkntv.com
In a span of about 12 hours, three convenience stores were held up in Lincoln.
The first happened around 1:00 a.m. at the Mills Squeegee near 27th and Superior.
"Two masked men entered the business and one was armed with a knife–like object while the other one had a handgun," Officer Katie Flood said.
Police say the suspects grabbed cash from the register then took off running.
An hour later, another robbery was reported at the Kwik Shop near 33rd and Holdrege. The description of the suspects was similar, they wore masks and left with cash and cigarettes.
"In reviewing the video surveillance, it appeared that they also had a third party with them that served as a lookout," Officer Flood said. "He stood outside the business."
By 1:30 Monday afternoon, another Kwik Shop had been targeted. This time near 1st and Cornhusker. Police say a man armed with a handgun and wearing a black ski mask walked in and demanded money. He also left on foot.
The string of robberies started over the weekend. Saturday, the Git N Split near 27th and O St. was hit. Then on Sunday, Jobob's near 33rd and Holdrege was robbed by a suspect described as a black male in his 20s, around 5'3″ and between 140–170 pounds.
Police say that description matches up with the fifth hold–up that occurred Monday afternoon.
Officials say it's too early to tell whether the robberies are related.