NU College Law ranked top "best-value" law school in the U.S.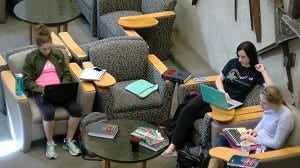 Posted by: Marlenia Thornton
mthornton@klkntv.com
The University of Nebraska College of Law has earned another honor.
It's been ranked the top "best–value" law school in the U.S. by the National Jurist, which is a respected law publication.
A title the college has received twice in a row.
Megan Heinzinger is a first year student from Chicago.
She said the college's ranking was one of the main reasons why she came to Nebraska.
Heinzinger said law school is a big investment, so cost played a large factor in her decision.
"This was really the best choice if I wanted an outstanding legal education and didn't want to get into too much debt in the process," NU College of Law Student Megan Heinzinger said.
The university said the ranking criteria come from more than just cost.
It also looks at things like students' post–graduate success including job placement and passing the bar.
For example, the class of 2016 had a 94 percent bar passage rate.
The class of 2015?
88 percent of graduates had jobs using their degrees.
"I think it just speaks volumes to the quality of education we are providing to our students and we're doing it at an affordable price that allows them to do all sorts of things after they graduate," NU College of Law Assistant Dean of Admissions Tracy Warren said.
Many students said the college's sense of community also sold them.
Cody nickel is from Minnesota.
He said while was visiting, he liked the students and faculty.
"They really just made it feel like a place where everyone really cared about you getting the best of your education and not necessarily a cut throat environment either," NU College of Law Student Cody Nickle said.
Nebraska Law was also ranked number 47 of 149 law schools by US News and World Report earlier this year.
It has climbed 32 spots in those annual rankings in the past four years.