NU Softball wraps up non-conference play Wednesday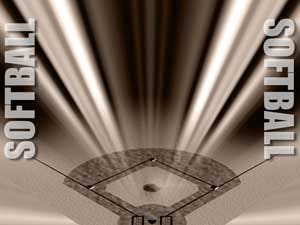 The 14th-ranked Nebraska softball continues a seven-game homestand by hosting South Dakota State in a Wednesday doubleheader at Bowlin Stadium beginning at 3 p.m. The doubleheader with the Jackrabbits marks NU's final non-conference games of the regular season.
Fans can purchase tickets for the doubleheader by visiting the Bowlin Stadium ticket office on game day, located at the main entrance behind home plate, by calling 1-800-8-BIG-RED or by visiting Huskers.com. Fans unable to make it out to the ballpark can follow all of the action on Huskers.com through a free radio broadcast, with softball play-by-play announcer Nate Rohr calling all of the action.
Nebraska takes a 32-9 record into play this week, with only 10 games remaining in the regular season. The Huskers are coming off a stretch where they have played six of their last seven games against ranked teams, including four contests against top-10 opponents. After splitting a two-game series with eighth-ranked Missouri over the weekend, Nebraska will step out of conference play for the final time in the regular season on Wednesday.
The Huskers are 28-3 against non-conference opponents this season, good for a .903 winning percentage. The best regular-season winning percentage against non-conference opponents in NU history is .870 by the 2006 Huskers, who posted a 27-4 record. This year's team would break that mark by winning one game of the doubleheader. Nebraska has won seven straight non-conference games and 17 of its last 18 dating back to February.
A return to the non-conference schedule will hopefully ignite a Husker offense that has hit a bit of a slow patch of late. Over the past five weeks, Nebraska has played four games against returning All-America pitchers, two more against the nation's current ERA leader and two more against a returning All-Big 12 ace. In those eight games, Nebraska averaged only 1.9 runs per game.
The Husker offense has been much better against non-conference pitching. In its current seven-game win streak against non-conference opponents, Nebraska has scored a total of 70 runs, an average of 10.0 runs per game. Overall this season, the Huskers are hitting .353 as a team in their 31 games against non-conference opponents, while homering 35 times and averaging 6.7 runs per game.
Freshman Taylor Edwards is hitting .451 with 13 homers and 49 RBIs against non-conference foes to pace the Huskers offensively. In the circle, junior right-hander Ashley Hagemann is 19-2 with two saves, five shutouts, 178 strikeouts and a 1.58 ERA in 128.1 innings outside of Big 12 play.
Scouting the South Dakota State Jackrabbits (9-35)
South Dakota State is just 9-35 this season after being swept in a three-game series at conference rival North Dakota State on Sunday and Monday. The Jackrabbits have lost 10 of their last 11 games. Nebraska and South Dakota State share four common opponents this season in Centenary, Creighton, Hawaii and Kansas. The Jackrabbits went 3-5 against those opponents thanks to a three-game sweep of Centenary. Nebraska posted a 6-0 record against those same opponents, winning the six games by a combined score of 41-7.
Offensively, SDSU is batting .234 as a team and averaging 2.8 runs per game. Ashley Durazo and Devon Reick are the only two Jacks hitting above .300. Durazo, who went 5-for-5 with three home runs two games ago, is batting a team-high .316, while also leading the team with 43 hits, 17 runs, two triples, five home runs and 23 RBIs. Reick is batting .303 with three doubles and seven RBIs. Pam Nicholson is the top speed threat with 13 of SDSU's 20 stolen bases, while Krista Honken has slugged a team-high eight doubles, while adding two home runs and 16 RBIs.
In the circle, South Dakota State utilizes a three-pitcher staff that boasts a 5.81 ERA. Nicholson and Kori Seidlitz have split the majority of the innings. Nicholson is 4-19 with a 4.87 ERA and 93 strikeouts in 143.2 innings, while Seidlitz is 5-16 with a 6.74 ERA and 77 strikeouts in 123.2 innings. Jennifer Bye (0-0, 8.84 ERA in 6.1 IP) rounds out the staff.
Husker History vs. South Dakota State
Nebraska is a perfect 12-0 all-time against South Dakota State, with all 12 meetings coming in the past five seasons, including 11 at Bowlin Stadium. The Huskers have won eight of the 12 all-time meetings by at least five runs, including each of the last five. The Huskers have outscored the Jackrabbits 79-19 all-time, winning by an average score of 6.6-1.6. Nebraska has scored at least five runs in nine of the 12 all-time meetings – including five straight – and have scored at least eight runs seven times. SDSU has been held to one run or less in seven of the all-time meetings, including five shutouts.
Husker Head Coach Rhonda Revelle is 7-0 against fourth-year South Dakota State Head Coach Joanna Lane. Revelle and the Huskers are also perfect all-time against members of the Summit League (52-0) and against the four Division I North and South Dakota softball programs (36-0).
Nebraska swept a doubleheader last season by scores of 8-3 and 6-0. In game one, the Huskers pounded out 12 hits. Heidi Foland was 2-for-4 with a home run, while Julie Brechtel was 3-for-3 with two RBIs. Ashley Guile also went 2-for-4. In game two, Ashley Hagemann threw a one-hit shutout with 12 strikeouts. Nebraska had 11 hits in the nightcap, as Foland went 2-for-3 with a double, while Brechtel was 2-for-4 with a triple. Brooke Thomason added a 3-for-3 day with two RBIs, while Madison Drake was 2-for-3 with two RBIs.
Nebraska's current players have combined to bat .430 (37-for-86) in seven games against South Dakota State the past three seasons. The Husker roster has also combined for six doubles, three home runs, 22 RBIs, a .593 slugging percentage and a .480 on-base percentage against the Jackrabbits. Individually, Brechtel is 11-for-21 (.524) with six RBIs in her career against SDSU, while Foland is 10-for-19 (.526) with three home runs, eight RBIs and a 1.105 slugging percentage and Thomason is 4-for-5 with two doubles and three RBIs. In the circle, Hagemann is 2-0 against South Dakota State with two shutouts. She has not allowed a run in 12.0 career innings against the Jacks, while allowing only three hits and striking out 20.
Quick Hitters
The information below provides a quick glimpse of a few statistics and brief notes of interest as No. 14 Nebraska wraps up non-conference play with a Wednesday doubleheader against South Dakota State:
The Huskers are 464-229 (.670) all-time in the month of April, including a 4-5 mark this season. April has historically been Nebraska's best month, as the Huskers own more victories and a better winning percentage in April than in any other month. However, Nebraska posted an 8-7 record in April last season, marking its first winning month of April in three years.
With only three games remaining this month, Nebraska needs to win each game to post a winning month of April.
Nebraska has only been out-hit six times in 41 games this season, but four times in the past eight games.
The Huskers have outscored their opponents by an average of 3.5 runs per game this season.
Nebraska's 42 home runs through 41 games marks the highest 41-game total in school history
The 42 home runs tie for fifth place on NU's all-time season home run chart.
The Huskers were held without an extra-base hit only twice in their first 37 games of the season, but have not recorded an extra-base hit in three of their last four games.
Seven of Nebraska's nine losses this season have come to teams ranked in the top 25 of the NCAA RPI.
Taylor Edwards enters this week with 99 total bases. With her next hit, Edwards would join Ali Viola and Jennifer Lizama as the only Husker freshmen to ever produce 100 total bases.
Taylor Edwards has 45 RBIs this season in only 48 at bats with runners in scoring position.
Julie Brechtel enters Wednesday's doubleheader with 199 career games played and 198 career starts – all at second base.
Huskers Aim for Best Non-Conference Record in School History
Nebraska is 28-3 (.903) against non-conference opponents this season, heading into the final two non-conference games of the regular season on Wednesday against South Dakota State. With one win on Wednesday, the Huskers would set the mark for the best non-conference, regular-season winning percentage in school history. The current record is an .870 winning percentage (27-4) by the 2006 Huskers. This year's team could also notch 30 wins in the regular season against non-conference competition for only the sixth time in school history.
The Huskers could also challenge for the best overall non-conference winning percentage (including conference and NCAA tournaments) in school history this season, once postseason play is complete. Nebraska's current .903 winning percentage against non-conference teams is on pace to top the best mark in school history of .813 set in 2002, the last time the Huskers advanced to the Women's College World Series.
Husker Defense Hitting Stride
Nebraska has committed only 29 errors in 41 games this season, as the Huskers' .972 fielding percentage is on pace to be the second-best mark in school history. The Huskers currently rank fourth in the Big 12 Conference and 31st nationally in fielding percentage, and the defense has been exceptional in league play.
After committing three errors in the first two games of conference play, the Husker defense has committed only one error – an overthrow of second base on a stolen base attempt – in its last eight Big 12 games. The Huskers boast a .985 fielding percentage in Big 12 play that ranks second in the league. Nebraska has also allowed only five stolen bases in conference play, the fewest of any team in the league.
Individually, freshman Tatum Edwards is the lone Husker with a perfect fielding percentage with more than 50 chances, while her sister Taylor has committed only one error behind the plate in 310 chances, good for a .997 fielding percentage that ranks as the third-best mark in school history. On the infield, junior Ashley Guile has committed only two errors all season at first base, senior Julie Brechtel has committed only four errors at second base, sophomore Gabby Banda has not committed an error in her last 11 games at short, and senior Heidi Foland has committed only two errors in her last 29 games at third base.
Hagemann Making Mark in Husker Record Book
Junior right-hander Ashley Hagemann has already etched her name in the Nebraska season record book in three categories and could enter several other charts before the season is over. Hagemann is 23-8 this season, with her 23 wins ranking in a tie for ninth in Husker history. Hagemann has also struck out 244 batters this season, a total that is eighth in school history and only 35 strikeouts from the top five. Hagemann has also averaged 9.0 strikeouts per seven innings this season, an average that ranks fifth in school history.
Hagemann is close to cracking the top 10 in several other categories as well. Her .742 winning percentage ranks just outside the top 10 (.786), while she needs only 36.1 innings, two saves, three shutouts and four complete games to crack the top 10 in each category.