NU Takes Fifth, Seven Place at B1G Championships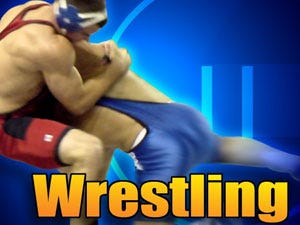 Posted By: Sports
Sports@klkntv.com
Courtesy: NU Media Relations
East Lansing, Mich. – Colton McCrystal (149), Tyler Berger (157) and Taylor Venz (184) each took fourth place to lead a list of seven total placers on Sunday, while Nebraska wrapped up a fifth-place team finish with 72.5 team points at the Big Ten Championships at the Breslin Center.
Freshman Jason Renteria took fifth at 133, while Chad Red Jr. (141), Isaiah White (165) and Eric Schultz (197) each placed seventh at their respective weight classes. With their finishes in the Big Ten Championships, six Huskers – Renteria, Red, McCrystal, Berger, White and Venz – qualified for the NCAA Championships which takes place March 15-17 in Cleveland, Ohio.
Ohio State captured the team crown with 164.5 points, while Penn State was second with 148. Michigan (118) and Iowa (90.5) rounded out the top four, respectively. Nebraska has finished in the top-five at the Big Ten Championships in three consecutive seasons, as well as four out of the last five.
The fourth-seeded McCrystal advanced to the third-place match at 149 pounds after third-seeded Ryan Deakin of Northwestern took a medical forfeit. McCrystal fell in the third-place match to Ohio State's fifth-seeded Ke-Shawn Hayes for the second time in the tournament, this time by a 7-5 margin. McCrystal qualified for the NCAA Championships, and finished on the podium for the second time after placing third last season. He is 21-5 on the season after a 4-2 weekend.
Berger, seeded fifth at 157 pounds, was also the recipient of a medical forfeit in the consolation semifinals, as second-seeded Jason Nolf of Penn State dropped out of the tournament before Saturday's semifinals. In the third-place match, Berger dropped a 6-2 decision to sixth-seeded Andrew Crone of Wisconsin. Berger's fourth-place finish marks the third time he's finished on the podium at the Big Ten Championships, as he placed seventh in 2016 and third in 2017. The All-American is 22-8 on the year, and has booked his trip to the NCAA Championships with his finish this weekend.
At 184 pounds, the sixth-seeded Venz avenged an earlier loss in a dual meet this season to fourth-seeded Emery Parker, as he defeated Parker by a 9-4 decision. In the third-place match, Venz was defeated by third-seeded Domenic Abounader of Michigan by a 7-3 decision. Venz wraps up the weekend as an automatic NCAA qualifier, and has a 23-7 record on the year.
In the consolation semifinal at 133 pounds, fourth-seeded Jason Renteria dropped a 9-8 decision to seventh-seeded Dylan Duncan of Illinois. Renteria rebounded with a 3-2 win over fifth-seeded Scott DelVecchio of Rutgers in the fifth-place match, Renteria's second win over the Scarlet Knight grappler in the tournament and his third win against him this season. He improves to 8-4 on the season and clinched a qualification spot at the NCAA Championships with his fifth-place finish.
Chad Red Jr. sealed seventh place at 141 pounds in his first Big Ten Championships appearance with a 6-3 decision over Maryland's Ryan Diehl, Red's second victory over Diehl this season. With the 3-2 weekend, Red is now 21-9 on the season and has qualified for the NCAA Championships.
Isaiah White, seeded eighth at 165 pounds, also claimed seventh in his first Big Ten appearance, as he evened the season series with sixth-seeded Nick Wanzek (Minnesota) up at a bout a piece with a 5-1 decision on Sunday. White is now 23-6 on the season after his 3-2 weekend, and clinched a spot in the NCAA Championships.
Eric Schultz, the eighth seed at 197 pounds, was another Husker to avenge an earlier loss, as he defeated seventh-seeded Zack Chakonis of Northwestern by a 3-1 decision in the first sudden-victory period in the seventh-place match. Schultz dropped a decision to Chakonis in a dual meet in January, but with his win Sunday and his 3-2 weekend overall, Schultz improves to 18-9 on the year. He will wait to learn his postseason fate when the NCAA Championships at-large qualifiers are announced on Tuesday.
Mitchell Maginnis (125), Beau Breske (174) and David Jensen (HWT) also competed for the Huskers at the Big Ten Championships, but were eliminated during Saturday's competition
Qualifiers to the NCAA Championships will compete at the national tournament March 15-17 at Quicken Loans Arena in Cleveland, Ohio.
Big Ten Championships
March 3-4, 2018
East Lansing, Mich. (Breslin Center)
125 Pounds: Mitchell Maginnis – 0-3 (DNP)
First Round: #6 Luke Welch (Purdue) dec. #11 Mitchell Maginnis (Nebraska), 6-2
Consolation First Round: #14 Carson Kuhn (Penn State) major dec. #11 Mitchell Maginnis (Nebraska), 12-3
*Ninth-Place Quarterfinal: #14 Carson Kuhn (Penn State) dec. #11 Mitchell Maginnis (Nebraska), 7-2
133 Pounds: #4 Jason Renteria – 3-2 (5th)
First Round: #4 Jason Renteria (Nebraska) pin Logan Griffin (Michigan State), 3:56
Quarterfinals: #4 Jason Renteria (Nebraska) dec. #5 Scott DelVecchio (Rutgers), 3-1
Semifinals: #1 Stevan Micic (Michigan) tech. fall #4 Jason Renteria (Nebraska), 19-3
Consolation Semifinals: #7 Dylan Duncan (Illinois) dec. #4 Jason Renteria (Nebraska), 9-8
Fifth-Place Match: #4 Jason Renteria (Nebraska) dec. #5 Scott DelVecchio (Rutgers), 3-2
141 Pounds: #4 Chad Red Jr. – 3-2 (7th)
First Round: #4 Chad Red Jr. (Nebraska) dec. Ryan Diehl (Maryland), 6-0
Quarterfinals: #5 Nate Limmex (Purdue) dec. #4 Chad Red Jr. (Nebraska), 6-4
Consolation Second Round: #4 Chad Red Jr. dec. (Nebraska) Alec McKenna (Northwestern), 2-0
Consolation Quarterfinals: Vince Turk (Iowa) dec. #4 Chad Red Jr. (Nebraska), 5-4
Seventh-Place Match: #4 Chad Red Jr. (Nebraska) dec. Ryan Diehl (Maryland), 6-3
149 Pounds: #4 Colton McCrystal – 4-2 (3rd)
First Round: #4 Colton McCrystal (Nebraska) major dec. #13 Jwan Britton (Michigan State), 17-5
Quarterfinals: #5 Ke-Shawn Hayes (Ohio State) dec. #4 Colton McCrystal (Nebraska), 7-6
Consolation Second Round: #4 Colton McCrystal (Nebraska) pin #11 Austin Nash (Purdue), 2:44
Consolation Quarterfinals: #4 Colton McCrystal (Nebraska) dec. #9 Steve Bleise (Minnesota), 8-5
Consolation Semifinals: #4 Colton McCrystal (Nebraska) m. for. #3 Ryan Deakin (Northwestern)
Third-Place Match: #5 Ke-Shawn Hayes (Ohio State) dec. #4 Colton McCrystal (Nebraska), 7-5
157 Pounds: #5 Tyler Berger – 4-2 (4th)
First Round: #5 Tyler Berger (Nebraska) dec. Shayne Oster (Northwestern), 8-3
Quarterfinals: #4 Micah Jordan (Ohio State) dec. #5 Tyler Berger (Nebraska), 4-3
Consolation Second Round: #5 Tyler Berger (Nebraska) dec. Justin Alexander (Maryland), 7-2
Consolation Quarterfinals: #5 Tyler Berger (Nebraska) dec. #8 John Van Brill (Rutgers), 5-1
Consolation Semifinals: #5 Tyler Berger (Nebraska) m. for. #2 Jason Nolf (Penn State)
Third-Place Match: #6 Andrew Crone (Wisconsin) dec. #5 Tyler Berger (Nebraska), 6-2
165 Pounds: #8 Isaiah White – 3-2 (7th)
First Round: #8 Isaiah White (Nebraska) dec. #9 Te'Shan Campbell (Ohio State), 6-1
Quarterfinals: #1 Isaiah Martinez (Illinois) dec. #8 Isaiah White (Nebraska), 7-4
Consolation Second Round: #8 Isaiah White (Nebraska) major dec. #10 Jacob Morrissey (Purdue), 12-3
Consolation Quarterfinals: #5 Evan Wick (Wisconsin) dec. #8 Isaiah White (Nebraska), 3-1
Seventh-Place Match: #8 Isaiah White (Nebraska) dec. #6 Nick Wanzek (Minnesota), 5-1
174 Pounds: Beau Breske – 0-2 (DNP)
First Round: #7 Joey Gunther (Iowa) tb-2 Beau Breske (Nebraska), 4-3
Consolation First Round: Josh Ugalde (Maryland) pin Beau Breske (Nebraska), 6:26
184 Pounds: #6 Taylor Venz – 3-2 (4th)
First Round: #6 Taylor Venz (Nebraska) bye
Quarterfinals: #3 Domenic Abounader (Michigan) dec. #6 Taylor Venz (Nebraska), 6-4
Consolation Second Round: #6 Taylor Venz (Nebraska) major dec. Norman Conley (Indiana), 8-0
Consolation Quarterfinals: #6 Taylor Venz (Nebraska) major dec. #7 Ricky Robertson (Wisconsin), 11-1
Consolation Semifinals: #6 Taylor Venz (Nebraska) dec. #4 Emery Parker, 9-4
Third-Place Match: #3 Domenic Abounader (Michigan) dec. #6 Taylor Venz (Nebraska), 7-3
197 Pounds: #8 Eric Schultz – 3-2 (7th)
First Round: #8 Eric Schultz (Nebraska) dec. Nick May (Michigan State), 3-2
Quarterfinals: #1 Kollin Moore (Ohio State) dec. #8 Eric Schultz (Nebraska), 10-4
Consolation Second Round: #8 Eric Schultz (Nebraska) major dec. Jake Kleimola (Indiana), 18-4
Consolation Quarterfinals: #5 Hunter Ritter (Wisconsin) pin #8 Eric Schultz (Nebraska), 2:09
Seventh-Place Match: #8 Eric Schultz (Nebraska) sv-1 #7 Zack Chakonis (Northwestern), 3-1
Heavyweight: David Jensen – 1-2 (DNP)
First Round: #6 Conan Jennings (Northwestern) dec. David Jensen (Nebraska), 2-0
Consolation First Round: David Jensen (Nebraska) dec. Deuce Rachal (Illinois), 7-4
Consolation Second Round: #5 Youssif Hemida (Maryland) pin David Jensen (Nebraska), 0:45
*-Does not count toward team score
Team Scores
1. Ohio State – 164.5
2. Penn State – 148.0
3. Michigan – 118.0
4. Iowa – 90.5
5. Nebraska – 72.5
6. Wisconsin – 67.0
7. Minnesota – 66.5
8. Illinois – 62.5
9. Purdue – 59.5
10. Northwestern – 55.5
11. Rutgers – 42.5
12. Maryland – 30.5
13. Indiana – 10.0
14. Michigan State – 9.5