NU VBall: Huskers stifle Maryland in straight sets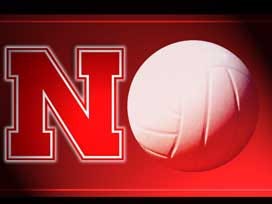 Posted by: Sports
sports@klkntv.com
Courtesy: NU Media Relations
The No. 9 Nebraska volleyball team blitzed past Maryland, 3-0 (25-9, 25-11, 25-12), on Saturday night at the Bob Devaney Sports Center.
The Huskers concluded the weekend sweep of Rutgers and Maryland to improve to 18-4 overall and 9-3 in the Big Ten. Maryland saw its two-match win streak come to an end, as the Terrapins fell to 12-14 (2-10 Big Ten).
The Huskers were dominant from start to finish, as they hit .412 – their best Big Ten mark – and held Maryland to -.033, a season low by a Husker opponent and the lowest percentage by Maryland this season. The Huskers posted 12 blocks on the night and had a 42-28 digs advantage.
Kadie Rolfzen had 10 kills on 13 swings for a career-best .692 hitting percentage. She also had six blocks and five digs. Cecilia Hall had eight kills, four blocks and a .571 hitting percentage on an error-free night. Mikaela Foecke had six kills, three blocks, four digs and three aces. Amber Rolfzen had five kills and eight blocks.
Kelly Hunter put up 30 assists, and Annika Albrecht and Justine Wong-Orantes each had 10 digs.
Set 1 (NU, 25-9): Nebraska jumped out to a 4-0 lead and pulled ahead 18-7 with an 8-1 run that was capped with back-to-back blocks by Amber Rolfzen. The Huskers hit a season-best .700 with 14 kills and no errors. Defensively, Nebraska had three blocks and held Maryland to -.040 hitting. Kadie Rolfzen, Amber Rolfzen and Hall each had three kills in the set.
Set 2 (NU, 25-11): Kadie Rolfzen had three kills and a block early in the set to help lift NU to an 8-3 lead. The lead expanded to 20-8 after a 12-4 Husker run. Nebraska continued to dominate at the net, posting six more blocks in the set to get to nine through two sets. Kadie Rolfzen and Amber Rolfzen each had five total blocks by the end of the second set, while Hall had four. Nebraska held Maryland to -.073 hitting in set two and had the Terrapins at -.061 for the match at that point.
Set 3 (NU, 25-12): The Huskers pulled away again early in the set, as a 5-4 lead turned to 10-4 after two kills by Alicia Ostrander and a Foecke service ace. After the Terrapins put together three straight points to pull within 14-10, Nebraska came back with kills by Hall and Foecke and a block by the Rolfzen twins to go up 17-10. Nebraska finished the match on an 11-2 run.
Up Next: Nebraska begins a four-match road stretch at Purdue on Wednesday at 6 p.m. (CT). The match will air on BTN.