NU Volleyball Sweeps Washington in Regional Semifinal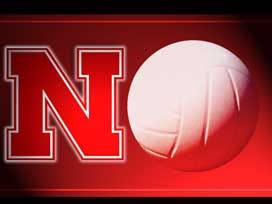 Posted By: Sports
The fourth-seeded Nebraska volleyball team handed No. 13 seed Washington its only sweep of the season, defeating the Huskies 25-14, 25-21, 25-23 in front of 8,954 fans at the CenturyLink Center in Omaha on Friday in an NCAA Regional Semifinal.
With the win, the Huskers (26-6) advanced to Saturday's NCAA Regional final against fifth-seeded Oregon, a 3-1 winner over No. 12 seed BYU in Friday's first match. Saturday's regional final, Nebraska's first since 2009, is set for 5:30 p.m. (Central) and will air live nationally on ESPNU. Tickets are available for the match through Ticketmaster or by visiting the CenturyLink Center ticket office.
Washington ended its season with a 25-7 record.
Facing a physical Washington team, setter Lauren Cook led a balanced Husker attack that featured four players with at least seven kills. Nebraska, which hit .233 in the sweep, was led by Omaha native Gina Mancuso's match-high 14 kills. Morgan Broekhuis and Hannah Werth added nine kills apiece and each hit at least .300, while Meghan Haggerty produced seven kills on 18 swings. Defensively, Werth produced 21 digs with a strong effort, while libero Lara Dykstra added 14 digs.
Washington was led by Krista Vansant's 10 kills, while Kylin Munoz added seven kills. Defensively, the Huskies were out-dug 55-33 by Nebraska, but Washington out-blocked Nebraska 11-4, including a 10-0 advantage after the first set. Offensively, the Huskies hit .130, their fourth-lowest percentage of the season.
Set one was tight early, before Nebraska opened up an 11-7 lead with a 6-1 run. The run was fueled by a pair of kills and a solo block by Meghan Haggerty. After trading sideouts, Nebraska stretched the lead to 20-10 with seven straight points, including three consecutive Husker blocks. Following a service error, Nebraska won three straight points to cap a 10-1 run that put the Huskers in front 23-11. Haggerty then ended the 25-14 victory with her third kill of the set on Nebraska's second set point. The Huskers featured a balanced offensive attack, as Broekhuis, Mancuso and Werth also had three kills in the set. Nebraska out-hit Washington .345-.028 in set one.
Nebraska kept its momentum by jumping out to a 6-1 lead in set two, forcing an early Washington timeout. Munoz recorded the Huskies' first kill of the set following the timeout, then served an ace to cut the lead to three. Three quick Nebraska points stretched the lead to six before Washington trimmed the lead to 16-13 and the Huskers answered by pushing the lead back to six. But after a Washington sideout, Nebraska committed three consecutive hitting errors, including a pair of UW blocks, as the Huskies trimmed the lead to two at 19-17 and forcing a Husker timeout. Mancuso delivered back-to-back kills following the timeout, fueling a 5-2 run that gave Nebraska a 24-18 lead. Washington fought off three match points before a Broekhuis kill delivered a 25-21 win for the Huskers. Washington out-hit the Huskers .176-.154 in the set and out-blocked NU 6-0, but Nebraska produced nine more kills than the Huskies. Mancuso totaled six kills in the set, two fewer than Washington's team total.
In set three, Nebraska won four of five rallies to take an early 5-2 advantage. Washington came back strong, using a 5-1 run to take a one-point lead. Neither team led by more than two until UW won four straight rallies to earn a 14-10 lead. The Huskies continued to lead by four until a 7-1 Nebraska run gave the Huskers a 19-17 lead and forced Washington into calling both of its timeouts. NU stretched the lead to three, before back-to-back Huskie points trimmed the lead to 21-20. Washington then pulled even at 22, forcing Nebraska to use its final timeout. A Mancuso kill and Washington net violation then gave Nebraska two match points at 24-22. The Huskies fended off one match point, before Broekhuis ended the match with her seventh kill.