NU Wrestling: Kokesh Lone Husker in B1G Finals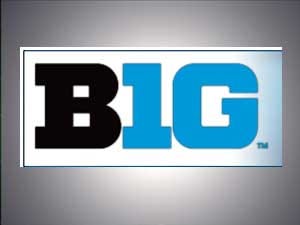 Posted By: Sports
Story Courtesy: Nebraska Athletics
Columbus, Ohio – Senior Robert Kokesh (174) won both of his matches on Saturday to advance to Sunday's Big Ten Finals against Penn State's Matt Brown.
Kokesh, the top-ranked wrestler in the country at 174 pounds, defeated fourth-seeded Logan Storley of Minnesota in the semifinals after his record-setting pin in Session I. Kokesh improves to 32-0 this season and climbs into second place on Nebraska's career victories list with 137. He will go for his second consecutive conference title on Sunday during Session IV.
Three-time All-American James Green (157) also advanced to the semifinals, but fell by a 6-5 margin to No. 2 seed Dylan Ness of Minnesota. Green, who holds a 27-4 record this season, will battle fourth-seeded Brian Murphy of Michigan on Sunday for a spot in the third-place match.
The Huskers are in seventh place as a team with 70.5 points. Ohio State leads the team race with 102.5 points, while Iowa (101) and Minnesota (86.5) round out the top three.
Tim Lambert (125), Anthony Abidin (141) and TJ Dudley (184) each managed a pair of victories in Session II to remain in contention for third place in their respective weight classes. Abidin won both of his consolation matches in bonus-point fashion with a pin and major decision. Lambert earned a first-period pin against Northwestern's Garrison White in one of his wrestleback matches.
Eric Montoya (133) and Austin Wilson (165), who each started the second session in the consolation bracket, went 1-1 and will each wrestle for seventh place on Sunday.
Aaron Studebaker (197) and Collin Jensen (HWT) each won their ninth-place semifinal matches and will wrestle for that spot on Sunday. Justin Arthur (149) also competed for the Huskers and went 1-2 on Saturday.
Saturday's action begins at noon (CT) with Session III, which will be streamed on BTN Plus. Session IV is set for 2 p.m., with the championship finals to be broadcasted live on the Big Ten Network.
Big Ten Championships
March 7-8, 2015
St. John Arena
Columbus, Ohio
125 pounds
First Round: #4 Tim Lambert (NEB) by dec. over Sean McCabe (RUT), 7-2
Quarterfinals: #5 Jordan Conaway (PSU) by dec. over #4 Tim Lambert (NEB), 7-4
Consolation Second Round: #4 Tim Lambert (NEB) by dec. over John Jimenez (WIS), 4-0
Consolation Quarterfinals: #4 Tim Lambert (NEB) by pin over Garrison White (NW), 0:27
133 pounds
First Round: #8 Rossi Bruno (MICH) by dec. over #9 Eric Montoya (NEB), 5-3
Consolation First Round: #9 Eric Montoya (NEB) Bye
Consolation Second Round: #9 Eric Montoya (NEB) by dec. over #7 Danny Sabatello (PUR), 3-0
Consolation Quarterfinals: #6 Zane Richards (ILL) by dec. over #9 Eric Montoya (NEB), 10-3
141 pounds
First Round: #3 Anthony Abidin (NEB) by pin over #14 Sean Brown (IND), 2:01
Quarterfinals: #6 Josh Dziewa (IOWA) by dec. over #3 Anthony Abidin (NEB), 3-1
Consolation Second Round: #3 Anthony Abidin (NEB) by pin over #4 Steven Rodrigues (ILL), 3:59
Consolation Quarterfinals: #3 Anthony Abidin (NEB) by major dec. over #7 Jameson Oster (NW), 13-0
149 pounds
First Round: #7 Justin Arthur (NEB) by dec. over Ben Dorsay (MD), 5-4
Quarterfinals: #2 Jason Tsirtsis (NW) by dec. over #7 Justin Arthur (NEB), 6-0
Consolation Second Round: Nick Trimble (MSU) by dec. over #7 Justin Arthur (NEB), 5-2
157 pounds
First Round: #3 James Green (NEB) by pin over #14 Travis Curley (MSU), 4:27
Quarterfinals: #3 James Green (NEB) by dec. over #6 Josh Demas (OSU), 8-2
Semifinals: #2 Dylan Ness (MINN) by dec. over #3 James Green (NEB), 6-5
165 pounds
First Round: #9 Austin Wilson (NEB) by major dec. over #8 Nick Wanzek (MINN), 11-2
Quarterfinals: #1 Bo Jordan (OSU) by dec. over #9 Austin Wilson (NEB), 4-1
Consolation Second Round: #9 Austin Wilson (NEB) by dec. over #7 Nick Moore (IOWA), 2-1
Consolation Quarterfinals: #5 Jackson Morse (ILL) by dec. over #9 Austin Wilson (NEB), 4-0
174 pounds
First Round: #1 Robert Kokesh (NEB) Bye
Quarterfinals: #1 Robert Kokesh (NEB) by pin over #9 Taylor Massa (MICH), 0:15
Semifinals: #1 Robert Kokesh (NEB) by dec. over #4 Logan Storley (MINN), 2-1
184 pounds
First Round: #6 TJ Dudley (NEB) by major dec. over #11 Anthony Pafumi (RUT), 11-3
Quarterfinals: #3 Ricky Robertson (WIS) by tiebreaker-1 over #6 TJ Dudley (NEB), 10-9
Consolation Second Round: #6 TJ Dudley (NEB) by dec. over #12 Mitch Sliga (NW), 4-0
Consolation Quarterfinals: #6 TJ Dudley (NEB) by dec. over #7 Nikko Reyes (ILL), 7-3
197 pounds
First Round: #12 Hayden Hrymack (RUT) by dec. over #5 Aaron Studebaker (NEB), 6-3
Consolation First Round: #5 Aaron Studebaker (NEB) by dec. over #13 Rob Fitzgerald (MD), 6-2
Consolation Second Round: #6 Max Huntley (MICH) by dec. over #5 Aaron Studebaker (NEB), 7-4
*Ninth-Place Semifinal: #5 Aaron Studebaker (NEB) by dec. over #12 Hayden Hrymack (RUT), 6-2
Heavyweight
First Round: #6 Michael Kroells (MINN) by dec. over #11 Collin Jensen (NEB), 8-4
Consolation First Round: #11 Collin Jensen (NEB) by dec. over #14 Tyler Kral (PUR), 6-0
Consolation Second Round: #5 Jimmy Lawson (PSU) by major dec. over #11 Collin Jensen (NEB), 8-0
*Ninth-Place Semifinal: #11 Collin Jensen (NEB) by major dec. over #9 Nick Tavanello (OSU), 10-2
*-matches don't count toward team score