NU Wrestling to Grapple in the Garden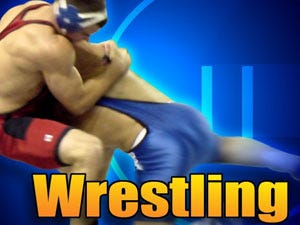 Posted By: Sports
The Nebraska wrestling team will be one of the first nine collegiate dual teams in history to compete at Madison Square Garden in New York City in the inaugural "Grapple at the Garden," MSG Sports announced on Thursday, June 8.
The nine-team event, which is scheduled for "The World's Most Famous Arena" on Sunday, Dec. 16, 2012, will include the Huskers and fellow Big Ten Conference teams Iowa and Ohio State, along with Oklahoma State, Hofstra, Maryland, Rutgers, Bucknell and Chattanooga.
Five of those teams finished in the top 25 at the 2012 NCAA Championships, including Nebraska (21st), Iowa (3rd), Ohio State (5th), Oklahoma State (6th) and Hofstra (21st).
"Madison Square Garden has a long and legendary history with collegiate athletics and we look forward to welcoming the finest collegiate wrestlers in the country on Dec. 16," Joel Fisher, executive vice president of MSG Sports, said. "There's no better way to host our first-ever collegiate wrestling meet than with these nine top universities with first-rate wrestling programs."
The full day of wrestling on Dec. 16 will consist of two sessions with the first starting at 10:30 a.m. with Nebraska vs. Maryland, Rutgers vs. Chattanooga, Ohio State vs. Hofstra and Iowa vs. Bucknell.
Session two will begin at 12:30 p.m. and feature Nebraska vs. Rutgers, Oklahoma State vs. UTC, Ohio State vs. Maryland and Iowa vs. Hofstra.
"We are very excited to be part of a great event in Madison Square Garden, which will make for a tremendous atmosphere," Nebraska Coach Mark Manning said. "New York is an area where we recruit and have a lot of familiarity with high school coaches, so we are truly excited about this unique opportunity."
Tickets will be available at a later date. To sign up for the exclusive pre-sale tickets, please visit www.MSGINSIDER.com.