Occupy Lincoln In Packing Up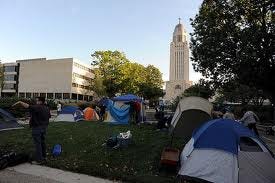 By: Ian Hest
IHest@klkntv.com
Occupy Lincoln is moving out of Centennial Mall.
But where will they go after the city's Tuesday deadline?
There are some that say they plan on staying put in Centennial Mall, much to the chagrin of the city, but a majority of the group is packing up and have found a new place to settle.
They're calling the new site "Occupy Lincoln 2.0" but say it will have the same message.
The new area at 30th and "A" is just across Capitol Parkway from the zoo.
Already a handful of occupiers have preempted the move to prepare for the rest of the group later in the week.
J.D. Pomplun says, "We plan on being here for a while. Until we get our point across and get our voices heard."
Interestingly enough, the new site is located just yards from a park and residential neighborhood.
Coming up tonight at 10, we'll tell you if that's even allowed and the residents in that area feel about their new neighbors.