Occupy protesters take part in world-wide May-Day campaign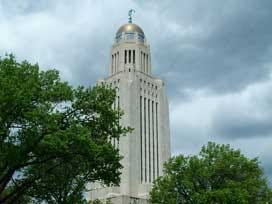 By: Kali Nicole
knicole@klkntv.com
It was a larger than usual crowd in front of the Capitol today, supporting the Occupy movement. Many said their main concern is their right to protest on public property.
Andrew Ivanhoe has been a part of the Occupy Lincoln Movement since it began last October. So, he said he's been preparing to participate in the World-Wide May-Day campaign for quite some time.
"I think it shows people we're still here and we still care and I don't think one person with a sign is ever going to make change, I think it's the movement as a whole," said Ivanhoe.
But Ivanhoe says his sign has double meaning. It also protests the group's eviction from the Capitol area. The group made an agreement with the city to move from Centennial Mall May 1st.
In preparation for the move, they set up camp near the zoo on Capital Parkway, but police say the new spot violates eleven city ordinances. They evicted them from that area.
"I don't have a problem with moving the camp. I was one of the votes that agreed to move on May 1st, not to shut down," said Ivanhoe.
With extra supporters, police were on stand-by all day, making sure everyone stayed peaceful and safe. Ivanhoe says, they may be shifting camp sites, but Occupy Lincoln will keep going until the message is heard.
"Staying true to the message and adapting to the times is how we will make change," said Ivanhoe.
The Mayor and City Attorney announced today they will address concerns regarding where the occupiers can go. They'll have a news conference at 10 A. M. Wednesday.