Officials think fire may be arson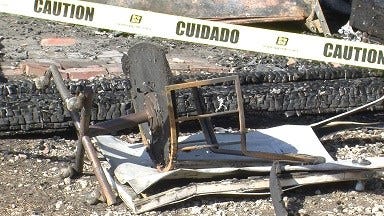 Posted By: Kelsey Murphy
kmurphy@klkntv.com
Flames shot from a garage near 35th and St Paul Tuesday morning. It was around 1:30 a.m. when fire fighters got the call.
Brooke Berumen lives right next door to the garage; he watched it spread over the trees and onto his home.
"I did not know what to grab," Berumen said. "You know everybody has a plan but….the plan went out the window once you see it that close."
Hours after the flames went out, and all that's left is burnt debris, fire investigators are suspecting arson.
Inspector Ken Hilger says burn patterns on the house and nearby fence make the fire look intentional. It's concerning for Berumen and those who live near by.
"You know just keep and eye out and see what's going on in the neighborhood," Berumen said.
Jason Wood lives just down the street and he says he is extra nervous, because he has a five year old son who plays around the area.
"We walk we go to the park all the time and I like to think that this is a good safe neighborhood but there is always concerns like this," Wood said.
Officials say the people who live in the home had been evicted. They were not home during the fire.
The total estimated damage of the garage and home is $60,000.
Officials are still investigating the fire. Right now they do not have any suspects.