Omaha family shares scare on 'World's Tallest' water slide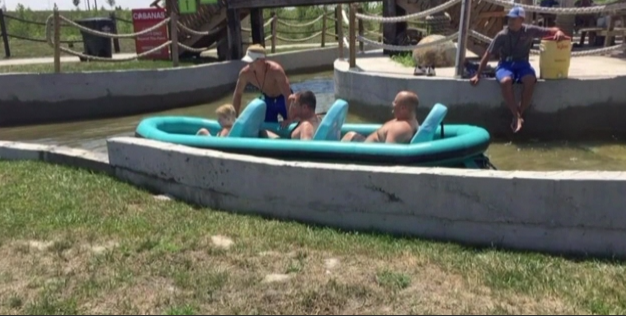 Posted By: Nicole Cousins
ncousins@klkntv.com
Authorities are investigating the bizarre and tragic death of a 10–year–old Caleb Schwab on Schliterbahn's Verruckt water slide in Kansas City.
But as this story unfolds, so do questions from this Omaha family, who's ride on the 168 foot slide – reaching speeds up to 70 miles per hour – nearly ended the same way.
"As soon as I hit the bottom of the first curve – the shoulder strap just kind of busted loose and I just held on as we went up the top of the next hill," Omaha native Paul Oberhauser said.
Oberhauser and his family went to Schliterbahn two weeks ago.
He rode Verruckt with his son, when his strap snapped off.
He managed to grip the handles near his legs until his raft came to a stop.
"I just gripped it really tight once I realized the shoulder restraint came loose," Paul said.
The Oberhauser's notified the company of the malfunction by first telling workers at the park.
Paul's wife, Erin, later tagged Schliterbahn in a Facebook post.
"Didn't hear from Schliterbahn and thought ah it must not be a big thing," Erin said.
Not a big thing…until Sunday.
"Shocked – it was just surreal to know we were just there – just on it – I have pictures still on my phone," Erin said.
Witnesses told ABC they noticed the restraints in some rafts were coming apart on Sunday, the same day Caleb died.
The Oberhauser's son is just 9–years–old.
He barely met the height requirement of 54 inches.
It just as easily could have been him.
"We got to be lucky and he got to go home with us," Erin said. "Unlike the Schwab's and our prayers are with them our hearts break for them.
The Oberhausers think the ride should be shut down.
Schliterbahn has been closed since the tragedy; it will reopen tomorrow.
Verruckt, however, is shut down for the rest of the season. Crews were on scene Tuesday actually taking parts of the ride apart.
Caleb Schwab's family announced his funeral services will be Friday.