Omaha man prepares to run Lincoln Marathon for 37th time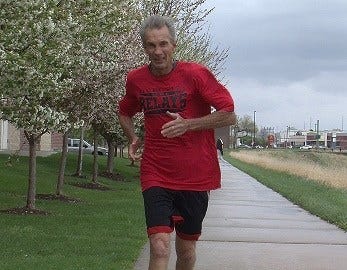 By: Brittany Paris
bparis@klkntv.com

Ron Olsen is training for the Lincoln Marathon this Sunday.
Running 26.2 miles may sound impossible to some, but for Olsen, it's nothing.
That's because while this is Lincoln's 37th year hosting, it's also Olsen's 37th year running.
"I haven't got a true count, but I'm getting close to 100 marathons," Olsen said on Wednesday.
He got inspired back in the 70's when the U.S. placed first and second in the Olympics.
The 67-year-old ran his first marathon in South Dakota, where he was going to school, in 3 hours, 30 seconds. You think he'd be happy with that.
"I was mad. I was throwing my gear down. I thought, well where is this 30 seconds at," Olsen said.
His sister told him about the Lincoln Marathon. Olsen only had three weeks to train, but he entered.
"And I ran it and there were only 700 runners. We started on the track and we went north to the airport and back. I ran it in 2 hours, 57 minutes," he said.
Talk about improving. Olsen has ran the Lincoln Marathon every year since.
He finished with his best time of 2 hours and 44 minutes in 1984.
Olsen says back in his 20's, he was running one marathon a month. But after serious injuries like being hit by a car, running with a broken foot, and breaking his hip by tripping over a branch, he's slowed down. But not by much.
Olsen runs year round, twice a day.
"Now I only run one marathon a year and it's Lincoln Marathon," he said.
Olsen says he hopes to finish in four hours on Sunday.
And of the 700 people who ran the first Lincoln Marathon, he's the last one standing.