"One Day Without Shoes"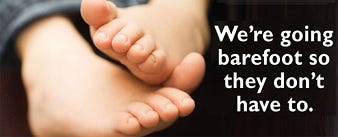 By: KLKN Newsroom
8@klkntv.com
A local bank puts one foot in front of the other for a good cause Tuesday.
Cornhusker Bank is teaming up with the People's City Mission for "One Day Without Shoes." Now in its third year, the event encourages people to donate new and used shoes to those less fortunate.
To raise even more awareness, bank employees and others walked from 11th and Cornhusker to the Mission.
"We shouldn't have poverty in Lincoln, Nebraska—we don't need to!" Pastor Tom Barber said.
"There's plenty of stuff in Lincoln, of everything. The solution to poverty is in the public. So, whether its shoes or your time or things you do, we really can shut down the effects of poverty by giving a little bit."
You can still drop off any shoes at many local businesses all over town until April 19th.
Click the following link for more information.