One day without shoes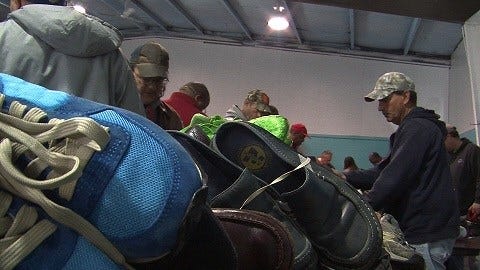 Posted By: Megan Conway
Imagine going an entire day without shoes or ones with holes or walking long distances to and from work. What about in the dead of winter?
"I had no way of getting any new shoes and my shoes, I've been working, I've got a job now and they're getting tore up and water is starting to leak in when it rains," says Gary Soderstrom of Lincoln.
Gary came to the People's City Mission for their event 'One Day Without Shoes.' This is the fifth year they've held the event. With the help of Cornhusker Bank, they collected over 16,000 pairs of shoes to give to people in need for free. That's a 33 percent increase from last year.
"It means the world to me. I'm really grateful to the People's City Mission and everyone that's contributed. This has been a Godsend," says Gary.
Then the Cornhusker Bank donated almost $9,000 in contributions as well, to purchase more shoes in sizes they didn't receive enough of.
"An awesome event this year that saw a huge increase. That increase is attributed to the fact that our neighbors, our community, the businesses and the schools got involved in a very big way this year," says Barry Lockard, President and CEO of Cornhusker Bank.
"A lot of the people who have bad shoes, also have to walk because they don't have cars, and so it became a really big, big need and what you guys have done here today is just monumental. It's going to bless so many folks," says Pastor Tom Barber, People's City Mission.
The youngest person ever to receive shoes at the event was 2 month old Arianna. Three generations of women in her family received shoes. Then there was Don, who's worn the shoes he received last year for the entire year. Now, those are worn out, he's back this year for a new pair.
"I found a couple more pair; a pair of slippers and I don't know what those are. I like to wear my shoes, they're comfortable," says Don St. Clair of Lincoln.
The Norris High School freshman class volunteered to sort all the shoes by size. What an incredible sight to see tables upon tables piled high with shoes, going to those in need.