One week left of shoe drive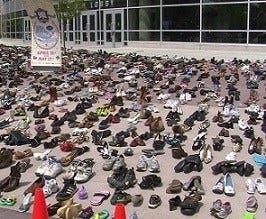 Posted By: Channel 8 Newsroom
8@klkntv.com
A state-wide shoe drive is attempting to break a world record.
The Greatest Shoe Drive on Earth is challenging the city of Lincoln to donate 16,480 shoes to break a Guinness World Record, but time is running out. The drive officially ends in one week.
Organizers laid out the 7,000 pairs collected over the last month in front of the Pinnacle Bank Arena Saturday morning. People were encouraged to drop off donations at several businesses around town, or leave them curbside the past week.

"It's been a fantastic project and everyone's generosity has just been overwhelming, it means the world to a lot of people that will get these shoes," organizer and spokeswoman for Soles4Souls Maggi Thorne said.
The shoes will go to people in need here in Lincoln, Omaha and beyond. If you want to donate, you have until next Saturday. Drop off donations at the following locations:
Scheels, SouthPointe Pavilions
Footloose and Fancy, 1219 P Street
One More Time, 1725 Van Dorn Street
EcoStores Nebraska, 530 West P Street
Black Market, 1033 O Street
Super C, 3400 Village Drive
NGC, 3830 South 6th Street
Whole Foods, 6055 O Street
Open Harvest, 1618 South Street
Edward Jones Investments, 3700 Village Drive
Joyride Bicycles, 5633 South 16th Street
University of Nebraska-Lincoln Union, 1400 R Street