Sheriff says man arrested for abusing 1-year-old baby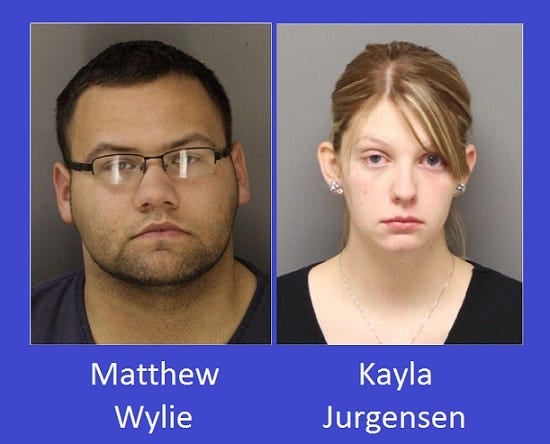 Posted By: KLKN Newsroom
8@klkntv.com
The Lancaster County Sheriff says the boy suffered serious head trauma.
The Lancaster County Sheriff's Office is investigating a child abuse case where a 1-year-old boy suffered serious head injuries. Sheriff Terry Wagner says the child was transported to Crete Hospital by his mother Wednesday night, December 12th. Due to the severity of his injuries, the baby was flown to Bryan/LGH West as a trauma. A subsequent medical examination revealed two separate areas of the child's brain that were bleeding internally, a skull fracture, swelling of the brain and a buckle fracture of his left arm which is already in the healing stage.
The Sheriff says the injuries happened at a home in Martell while the child was in the care of Matthew Wylie, the boyfriend of the child's mother. The Sheriff says the injuries were reported to the child's mother, Kayla Jurgensen, while she was at work.
25-year-old Wylie was arrested and lodged in jail for felony child abuse. The child's mother, Kayla Jurgensen, age 22 was cited and released for child abuse. The one year old boy has been placed in the custody of Child Protective Services.
Wylie is currently on parole for 2nd degree Assault and Child abuse stemming from an incident at the same location in 2009 where a 3 month old boy suffered a laceration to his tongue that required surgery to correct. Wylie had been sentenced in 2010 to 3 – 6 years for the assault, and 2 – 5 years for the Child Abuse. He was paroled in October, 2011, with the condition he not have any contact with children under the age of 12. His discharge date is December 26, 2012.
Deputies had received information in August 2012 that Jurgensen and her baby were living with Wylie at the Martell house. A subsequent investigation did not determine the child was being abused, but deputies were aware Wylie's Parole officer had conducted a home visit earlier in the day because they were notified of the living arrangements with an infant in the house.
The Sheriff's office says Wylie is not the father of either children.