Osborne Said Kansas Made Great Decision On Gill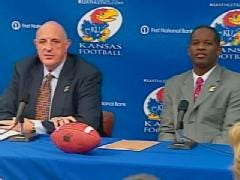 Kansas has hired Turner Gill as its new football coach. The former Nebraska quarterback and assistant coach made a name for himself during four years as head coach at Buffalo.
He went 20-and-30 with the Bulls, taking them to a 2008 bowl game after winning the Mid-American Conference. He becomes Kansas' first black head football coach and will be introduced at a news conference Monday.
Gill replaces Mark Mangino, who resigned December 3 amid an investigation into his treatment of players. The Jayhawks went 5-and-7 this season, losing seven straight following a 5-and-0 start.
Nebraska Athletic Director Tom Osborne said Kansas made a great decision when they decided to hire Gill.