Over 100 days on a ventilator: Fairbury rancher making strong recovery
Jake Immink was diagnosed with COVID-19 in October. Doctors are calling his journey extremely rare.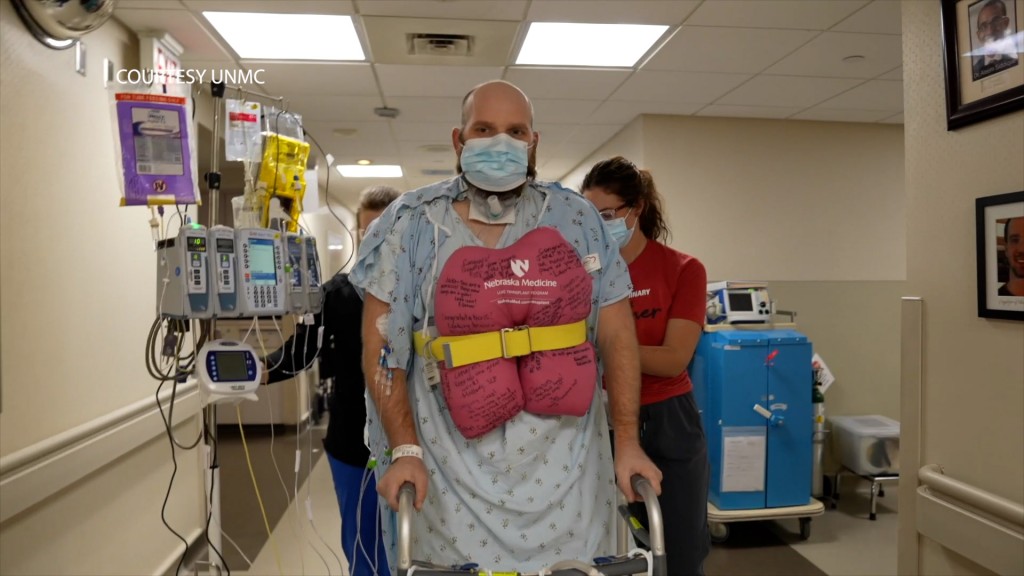 LINCOLN, Neb. (KLKN) – You may have heard the name Jake Immink before. The 31-year-old cattle rancher near Fairbury was diagnosed with COVID-19 back in October. He was one of eight family members to test positive, but Immink was hit the hardest.
He spent over 100 days on a ventilator, suffering from damaged lungs.
"There was a couple times where doctors told my family I probably wouldn't make it into the night so it's exciting to be here today," Immink said. "It's exciting to feel normal."
Immink's story is almost unheard of.
"Very few patients who get as sick as Jake got, actually survive," Nebraska Medicine transplant pulmonologist Dr. Heather Strah said.
Immink was left with very few options. He could remain on a ventilator, or get a double lung transplant.
"We were looking at going to the nursing home on a ventilator, and at the age of 31 that type of prognosis is not what you want to think about at that age," Bryan Health pulmonologist Dr. Bill Johnson said.
At the time, performing that surgery on a COVID patient in the middle of a pandemic was unheard of in Nebraska.
"There were very few things that needed to be done before he could be a candidate," Strah said. "He needed to lose a little weight and he needed to be in better physical condition."
The tenacious, strong-willed cattle rancher went to work.
Immink had a tracheotomy and was on a ventilator, but still did physical therapy. He even walked a mile.
"I was going to do everything I possibly could to be eligible for the transplant," Immink said. "It was hard, especially being confined to a hospital room and hooked up to a ventilator, but I was determined to make it happen."
The hard work paid off. Over one week ago, he got the call he would be getting the transplant in 24 hours.
"Jake continues to do fantastically and continues to put in all the tremendous efforts he did before," Nebraska Medicine surgical director of lung transplantation Dr. Aleem Siddique said.
Doctors have only performed about 40 COVID lung transplants in the nation. Immink said he can't thank the doctors, nurses and family enough.
He also is forever grateful to the stranger who saved his life.
"Without the donor, I wouldn't be here today."
If everything continues to go well, Immink will be able to leave the hospital soon. He will have to stay in Omaha to rehab for the next three months, but he is looking forward to seeing his family.
You can view the full story in the video above.