Owner of stolen car speaks out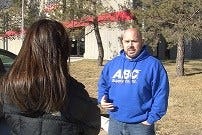 Posted By: Jenn Schanz
jschanz@klkntv.com
A pursuit–filled Monday afternoon ended in three arrests, but Lancaster County Chief Deputy Jeff Bliemeister say it all started with a black Ford Fusion.
It belongs to Craig Metzler of Hickman; he reported it stolen on Sunday.
The Chief Deputy say 31–year–old Michael Nielsen of Lincoln took it.
After a high speed chase through the city, the car was disabled by a state trooper near the Lincoln Airport.
Metzler watched it on the news.
"We saw it on Channel 8. When I saw the damage to the front, that I saw the patrolman had actually slammed into the side to stop him. You know, doing his job. But I was like man, that car is… it's gone," says Metzler.
Nielsen, who troopers believe was under the influence of drugs, was arrested.
But Bliemeister say he wasn't the only one involved.
Earlier on Monday, he says Nielson dumped the car near southwest 2nd and Wittstruck road.
Metzler's wife arrived to take it home, but it was out of gas.
The Chief Deputy says when she returned to fill it up, 19–year–old Lakota Leach and 18–year–old Tiphaney Sullivan were in the area.
He says Leach was trying to gas it up and steal it.
"When my wife went back, and saw two other people involved, she was kind of freaked out about it," Metzler says.
When confronted by Metlzer's wife, officials say the two took off in another stolen car; this one a silver Chevy Blazer.
After a short pursuit, deputies nabbed them near southwest 29th and west Sprague road.
Both Sullivan and Leach were arrested.
"The investigation has shown that there is a relationship between Tiphaney Sullivan, Lakota Leach and Michael Nielsen," Bliemeister says.
Again, he believes Nielsen had temporarily left the Fusion, that's when he says the other two tried to steal it.
But when they fled, he says Nielsen came back for it, and shortly after, the high speed pursuit started.
Metzler doesn't have full coverage on the Fusion, but says he's just grateful the thieves were caught.
Both Nielsen and the state trooper that disabled the Fusion were taken to the hospital with minor injuries.
All three suspects remain in custody.