Palmer Jr. named to Wooden Award watch list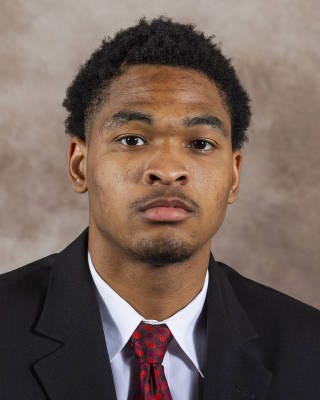 award@klkntv.com
Courtesy: UNL Media Relations
Nebraska's James Palmer Jr. earned more national recognition this week, as he was named to the John R. Wooden Award Presented by Wendy's Preseason Top 50 Watch List Tuesday afternoon.
It is the second watch list Palmer, a 6-foot-6 guard from Upper Marlboro, Md., was named to this week, as he was named to the Naismith Trophy watch list on Monday.
Palmer begins his senior campaign as one of the top returning scorers in college basketball. As a junior, he averaged 17.2 points, 4.4 rebounds and 3.0 assists per game in leading the Huskers to a 22-11 record and an NIT berth. The 22 wins were the second-highest total in school history and an improvement of 10 wins from the previous season. Palmer reached double figures in 31 of 33 games in his first season at Nebraska, including eight 20-point efforts. His junior year was highlighted by a career-high 34-point effort at Ohio State. Palmer is one of only five returning power conference players who averaged 17.0 ppg, 4.0 rpg and 3.0 apg last season.
Palmer, who joins Purdue's Carsen Edwards as the only returning first-team All-conference selections last season from the Big Ten coaches, was third in the Big Ten in scoring in conference play at 18.8 points per game, reaching double figures in 17 of 18 conference tilts. He also finished 11th in assists (3.4 apg) in Big Ten action. Palmer's 18.8 ppg in Big Ten play is the highest by a returning conference player in six seasons.
The players on the list are considered strong candidates for the 2019 John R. Wooden Award Men's Player of the Year presented by Wendy's. Players not chosen to the preseason list are still eligible for the Wooden Award™ midseason list, late season list and the National Ballot. The National Ballot consists of 15 top players who have proven to their universities that they meet or exceed the qualifications of the Wooden Award. Nearly 1,000 voters will rank in order 10 of those 15 players when voting opens prior to the NCAA Tournament and will allow voters to take into consideration performance during early round games. The Wooden Award All American Team™ will be announced the week of the "Elite Eight" round of the NCAA Tournament. The winner of the 2019 John R. Wooden Award will be presented by Wendy's during the ESPN College Basketball Awards on Friday, April 12, 2019.