Parents weigh in on vaccinations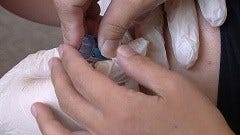 Posted By: Jenn Schanz
jschanz@klkntv.com
A recent Measles scare across the nation has once again sparked the debate over immunizing.
Doctors overwhelmingly suggest it, especially for the Measles vaccine, which has proven to be up to 97 percent effective.
So what do Lincoln parents think?
We asked you to weigh in on our Facebook page, and received dozens of comments.
One person posts "Vaccinations… thumbs up!"
Another posts "Be responsible parents, vaccinate….it's the right thing to do!"
Kimberly Schrader is one of many parents who supports mandatory vaccines.
"I didn't vaccinate them and take them to the doctor to protect them from these illnesses just to have them exposed to them again when they go to school," she says.
Her two children go to Lincoln Public Schools; they've both been vaccinated.
Abbi Mota is another LPS mom; she chose against vaccines.
"Me and my husband decided against it because we had personal friends that had bad experiences that happened right after they were immunized," says Mota, who also has two LPS students.
The mom of two says making choices about your kids health is a parents' right, not the state's.
Currently, LPS follows the state standards for vaccination requirements in public schools.
All children must be vaccinated for certain diseases unless they're exempt, meaning a certain medical condition keeps them from being able to be vaccinated, or their family is against it for religious reasons.
Around 95 percent of LPS students are vaccinated.
School officials says ideally, every student would be.
"We would really like to have that happen, that students are vaccinated. We do have very few students that are not," says Marge Theel of Lincoln Public Schools.