Parts of downtown Lincoln to be redeveloped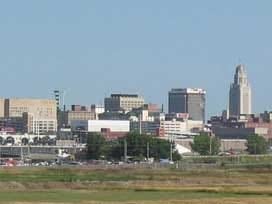 By: Cole Miller
cmiller@klkntv.com
A big chunk of downtown Lincoln is ready to be redeveloped, but a business owner is worried the plan could put him out of work.
Lincoln has already seen a lot of construction and could see some more near 21st and "N" Street. A big plot of land along the Antelope Valley has been given the green light to be redeveloped.
Tom Nebelsick makes his daily rounds at the Randolph Car Wash. He and his wife have owned it for the past thirty years. Now, the city wants to redevelop the area around him near 21st and "N." Nebelsick says the whole idea worries him.
"Not optimistic at all. I'm pessimistic about it. The city has bought up most of the land around us and from what I've seen them do in other situations, I believe, they'd probably like to see me gone," said Nebelsick.
The preferred redevelopment area is from "N" Street down to "L" Street along 21st. Mayor Chris Beutler says it will promote job growth and turn public property into taxable private property.
"The East Downtown Redevelopment Project could become an economic catalyst for the city," said Mayor Beutler.
In all, nearly seven acres will be up for grabs allowing private bids to be made to revamp and revitalize the area. "From a developer's point of view, its potential, its opportunity to really develop in the core where infrastructure in place with the new Antelope Valley Project," said Gene Carroll, City Councilman.
The city is addressing Nebelsick's concerns. Community Development Manager, Wynn Hjermstad, says they have no intentions of forcing current businesses out. Nebelsick hopes that's the truth and that he'll be treated fairly.
"We've done a good job of being a good business in this community. A lot of people know us and respect us. I think we've been in asset to this community and I'd like to not be squeezed out by big city politics," said Nebelsick.
Beutler says preserving some of the historic buildings will be a priority. All proposals for development plans are due to the city by November 1st.