Report: Paterno and former UNL Chancellor covered up Sandusky scandal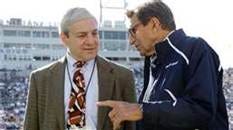 POSTED BY: KLKN Newsroom
8@klkntv.com
An internal investigation into the child sex abuse scandal that rocked Penn State concludes that top school officials, including longtime football coach Joe Paterno, hushed up allegations against Jerry Sandusky for fear of bad publicity.
Former FBI Director Louis Freeh says the investigation he headed found that "the most powerful men at Penn State failed to take any steps for 14 years to protect the children who Sandusky victimized.''
Free says the "most saddening and sobering finding'' of the eight-month inquiry was "the total disregard for the safety and welfare of Sandusky's child victims by the most senior leaders at Penn State.''
Along with Paterno, the report faults former Penn State President and former UNL Chancellor Graham Spanier, athletic director Tim Curley and vice president Gary Schultz. It says they "repeatedly concealed critical facts.''
The report says abuse might have been prevented if they had barred Sandusky from bringing children to campus after a complaint prompted a police inquiry in 1998.
Sandusky is awaiting sentencing on 45 criminal counts for abusing 10 boys.
Curley and Schultz are awaiting trial on charges of lying to a grand jury and failing to report abuse. Spanier and Paterno were fired, and Paterno died months later.
The family of the late coach says Paterno "never interfered with any investigation'' and would never have covered up for a child predator.
See full report: http://abcnews.go.com/US/penn-state-report-slams-joe-paterno-officials-concealing/story?id=16760493