Peaches James' Jersey To Be Retired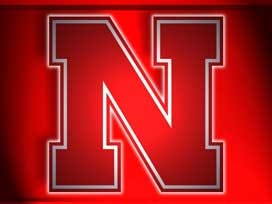 All-American Peaches James will become the fourth Husker softball player to have her number permanently retired, when her No. 42 jersey is officially retired on Saturday, Oct. 2 during Nebraska's doubleheader against an all-star team from the National ProFastpitch league.
James will join All-Americans Lori Sippel (No. 16) and Denise Day (No. 10) and fellow Nebraska native Julie Geis (No. 15) as the only Huskers to have their number retired. Head Coach Rhonda Revelle also announced that three-time All-American Ali Viola will become the fifth member of that elite group. Viola is currently the associate head coach at Ohio State and Nebraska plans to officially retire her No. 2 jersey when the Buckeyes travel to Lincoln for a to-be-determined Big Ten Conference matchup during either the 2012 or 2013 season.
"When I first got the phone call from (Associate Head Coach Lori) Sippel, I couldn't even speak for a second," James said. "I never saw this coming or even knew it was a possibility. I am just so humbled to have my jersey retired. To have it hanging there next to those three amazing ladies is just breathtaking.
"I just love Nebraska. I miss it all the time, and wish I could go back and do it again in a heartbeat. I couldn't feel prouder to represent Nebraska."
A graduate of Papillion-LaVista High School, James enjoyed a decorated four-year career at Nebraska from 2001 to 2004. James was a four-time, first-team All-Big 12 selection, becoming the first pitcher to earn four first-team honors in league history. During a stellar senior season in 2004, James was named a second-team NFCA All-American in addition to being named Big 12 Player of the Year and Big 12 Tournament MVP.
James was also a three-time Big 12 all-tournament team selection, a six-time Big 12 Pitcher-of-the-Week honoree and earned one Big 12 Player-of-the-Week honor. On the national level, James was a three-time NFCA National Player-of-the-Week selection and was one of 25 finalists for the USA Softball Collegiate Player of the Year award in 2002 and 2004. She was also a first-team NFCA All-Region selection in 2003 and 2004 and a second-team honoree in 2002.
In her career, James boasted a 98-38 record with a 1.19 ERA and 945 strikeouts in 917.1 innings. She threw 44 shutouts, including three no-hitters, and tossed one of only three perfect games in Nebraska history. James is the Nebraska career record holder in strikeouts and shutouts, while ranking second in wins, innings pitched, no-hitters and complete games (101), fifth in ERA and saves (9) and sixth in winning percentage (.721).
In earning All-America honors as a senior, James posted a 37-9 record with a 0.70 ERA in 298.1 innings. She tossed a school-record 18 shutouts and struck out a school-record 394 batters, while opponents hit only .137 against her. In addition to her school-record strikeout and shutout totals, James posted the second-highest win total in Nebraska history that season, while also ranking second in innings pitched and complete games (39) and seventh with an .804 winning percentage. James' 0.70 ERA in 2004 stands as the lowest at Nebraska since 1987 and is good for seventh in the Husker record book.
James also owns a spot on Nebraska's single-season top-10 lists in wins (23, t-9th in 2003), innings (243.2, t-7th in 2003 and 227.0, 10th in 2002), strikeouts (250, 7th in 2003), shutouts (nine, t-9th in both 2002 and 2003), saves (four, t-7th in 2002) and complete games (27, t-6th in 2003).
James also routinely hit for herself, finishing with a .224 average in 554 career at bats. James batted .280 with nine home runs and 37 RBIs in 2002 and finished her career with 124 hits, 63 runs scored, 16 doubles, 14 homers, 76 RBIs and 24 stolen bases.
"I am so proud and feel so blessed to have had the opportunity to play for Nebraska," James said. "It was the best four years of my life and helped me grow so much as a person and a player.
"I knew Coach Revelle and Coach Sippel were great coaches, but I just never knew how amazing they would be. I feel like I came in as an infant pitcher and through their nurturing, patience and belief in me, they helped me develop my confidence and I became a whole new pitcher."
The Huskers enjoyed terrific team success during James' career, winning three Big 12 championships (two regular-season crowns and one tournament title) while winning 13 games in the NCAA Tournament, including a fifth-place finish at the 2002 Women's College World Series. Overall, Nebraska never finished a season ranked lower than 14th during James' career, while posting three of the top five season win totals in the 35-year history of the program.
But despite the on-field success, James was quick to point out that she learned much more in her time at Nebraska than just softball.
"Nebraska softball is about so much more than just winning," she said. "There is so much integrity. It's a family-oriented atmosphere and the coaches just truly care about every individual. They are unbelievable coaches, and I know I wouldn't have been half the pitcher, player and person I am today without them. What they did with me is exactly what they have done with the entire Nebraska softball program."
While James was quick to give credit to the coaching staff, Revelle said James has earned this prestigious honor.
"Peaches James is one of those people that you absolutely feel honored to coach," Revelle said. "You are her biggest fan because she is such an extraordinary human being. Gifted, humble, dedicated to the 'Nebraska' name on her jersey, spirited, competitive, team oriented and immensely grateful for her talent and the opportunities that made this day possible.
"Our coaching staff could not be more excited or proud than we are today to announce the retirement of Peaches James' No. 42 jersey."
Special Thank You From Peaches James:
"Although I am still trying to take all this in, there are a ton of people who have made this possible. I am grateful to so many people, I don't know how to honor everyone without making this a book, but I am going to try.
"First of all I have to thank all of my teammates throughout the years for your hard work and dedication. There is no me without you. To my coaches, you have helped me build my foundation and develop my skills. I want to especially thank Coach Revelle, Coach Sippel and Nebraska Softball for presenting me with this amazing honor.
"I don't think I can say thank you enough to all my catchers. Sometimes you don't receive enough recognition, but I have always believed that a catcher is what makes a good pitcher great. You get up early with the pitchers and stay late when we have to keep working. You are selfless day-in and day-out and you brought out of me what I didn't know I had.
"To my friends, I want to give you a special thanks because you have been my strength throughout my life. You have been there with me, even if it wasn't your duty. I cannot count how many selfless acts you have done to help me be a better player and person.
"Mom, Dad and the rest of my family, I love you so much. You have been my rock and support system. You were there in every aspect of my life that I needed you. I simply cannot say thank you enough. This honor is as much yours as it is mine.
"And finally Nebraska, from the fans to the athletic department, you are first class. You have made this experience one of a kind. It is a fact that there truly is no place like Nebraska."