Pediatric Cancer Survivor Thankful for Her Health This Thanksgiving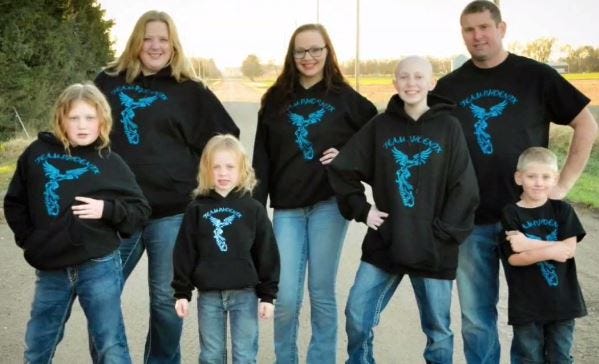 Posted By: Channel 8 Eyewitness News
8@klkntv.com
HOLSTEIN, Neb.
A 13-year-old girl is thankful to be alive and healthy this Thanksgiving season. NTV News spoke with a bright-eyed, talkative little girl Tuesday morning. She is stronger than a typical kid her age, undergoing three brain surgeries in the past year.
Izabella Voelker, an eighth grader from Holstein was told she had a five percent chance of living. After sudden and severe elbow pain, she was tested and diagnosed with a rare form of pediatric cancer, pineoblastoma.
"I wasn't scared to pass away because I'm a strong believer but if I did I knew everything would be okay. Of course I planned my funeral because I know my sisters would need my mom and I didn't want her to have to deal with my funeral, pediatric cancer survivor Izabella Voelker.
"It never really crossed my mind even with me being told she had a five percent chance that she wasn't going to be in that five percent. She's never been one of those to ever not defy every statistic and she has over and over and over again with this," said Izabella's mother Miki Eckhardt.
Izabella's mom said it was hard but she owes a big thanks to a non-profit, Angels Among Us. They helped pay their house payments for 16 months after Miki lost her job to take care of Izabella. Now with Izabella in remission, this year for Thanksgiving she tells me she is thankful to celebrate with her family and friends.