People take to the parks to celebrate Memorial Day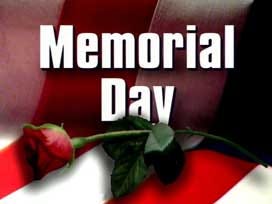 With temperatures like Monday's, you gotta get outside! Local parks were packed with people enjoying the sunshine and doing traditional summer time activities. We headed out to Holmes Lake Park Monday, it was so beautiful, dozens of families were taking full advantage of their day off.
People are out getting their share of all the summer staples this Memorial Day, water, sand and sunshine. These dogs were having their day. Buster and Leo both took a dip to cool off. It was a perfect day for just about everyone, except maybe this guy, a bass the kids named spotty.
Madison explains her family's favorite memorial day activity. "we're going fishing!" "we've caught three fish so far, large mouth bass and then what do we do Tanner? take the hook out, we take the hook out and let 'em go."
So spottie's day could still turn around, with that catch and release. Madison and Tanner wanted to be sure and tell me before we left, they caught one more fish. So bring that total up to four.
Lots of the people at the park Monday said after the long harsh winter we had, they're gonna be spending as much time as possible outside this summer.