Piano Man Billy Joel coming to the Capitol City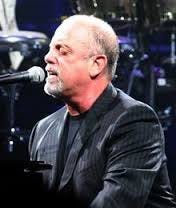 By: Channel 8 Eyewitness Newsroom
8@klkntv.com
"The City of Lincoln, Pinnacle Bank Arena, and Live Nation are proud to announce that one of the biggest live performing artists in the world is coming back to Lincoln," said Mayor Chris Beutler.
After over 3 decades, the legendary musician Billy Joel, will be returning to the Capital City. He will rock the stage on Friday, March 24th.
"This will be a live event that people will continue to talk about for years and years," said PBA General Manager, Thomas Lorenz.
The piano man is one of the most popular and respected musicians in history. He has sold over 150 million records and is the sixth best–selling recording artist of all time. Tickets go on sale next Friday, November 18th at 10 a.m. American Express Card members can order November 14th.
The Husker Basketball Coaches were there to promote their upcoming seasons. They say they are excited to share the arena with such an influential artist.
"Just an incredible event to be able to bring an icon like Billy Joel back to this event," said Amy Williams.
"Finally Billy Joel and I have something in common, we get to feel the electricity of what's it like in Pinnacle Bank Arena. There is nothing like it," said Tim Miles.
PBA officials describe this concert as one you won't want to miss.
"What a terrific live performance, he just tears it up every time. He doesn't just sit at the piano and quietly play, Billy is all over the stage," said Lorenz.
Mayor Beutler also announced that for the month of March R Street will be known as Billy Joel Way.
___________________________________________________________________________
Billy Joel is coming back to Lincoln.
Pinnacle Bank Arena made the announcement Thursday morning.
The show will be March 24th, 2017.
Tickets can be purchased through Pinnacle Bank Arena's website November 18th, 2016.
It's been 30 years since Bill Joel last played in Lincoln.
The street outside the arena is changing to Billy Joel Way temporarily.