Pick-up ends up on top of another vehicle in accident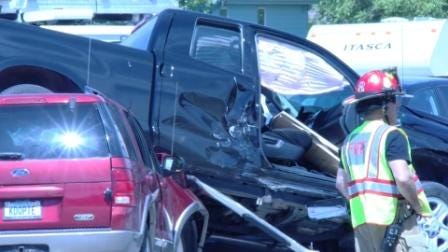 Posted By: Channel 8 Eyewitness News
8@klkntv.com
There was a 3 car crash in southeast Lincoln Thursday afternoon.
"The first arriving Medic Unit on location indicated that we did have a vehicle that was on top of another vehicle, which makes it a very interesting extracation for us," says Battallion Chief Leo Benes, Lincoln Fire and Rescue.
It happened at 70th and Old Cheney. One vehicle ended up on another and 4 people were taken to the hospital. The good news is no life threatening injuries, but one person was trapped for a while.
"Crews went to work trying to stabilize the vehicles to make it safe, not only for the crews that were working around the vehicles, but the patients themselves. It took us about a short 15 minutes to stabilize the vehicles and then get the patient out of the top vehicle," says Benes.
Witnesses in the area say stoplights were not working because of a power outage in the area and that's what caused the crash. Power was restored shortly after.