Pinnacle Bank Arena gets 'nursing nook'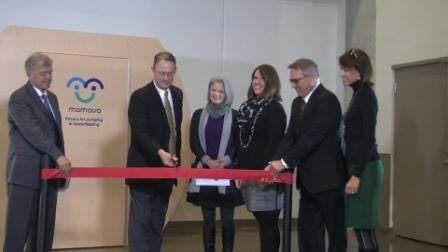 By: Lauren Fabrizi
lfabrizi@klkntv.com
Natalie Hershberger, mother of 3, made the decision early on to breastfeed her children.
"You get to know your baby on an intimate way where you're responding to the baby not based on a clock but based on what the babies need," Hershberger said.
Sometimes mothers face challenges when trying to breastfeed. That's why Natalie wants to help out. She's one the Lincoln area leaders of La Leche League, an international breastfeeding support group.
But Natalie said nursing could be a little tricky in public places, especially when there's no designated area.
To help make moms more comfortable, Pinnacle Bank Arena has a new 'Nursing Nook' that was introduced by Mayor Chris Beutler Tuesday.
It's a free–standing kiosk in the northwest corner of the main concourse. It seats two people, has a fold-down table and a power outlet for a breast pump.
It's made by a company called Mamava. Pinnacle Bank Arena is the first arena in the country to have one. Mamava has provided only ten other nooks to date to other spaces.
"It's been really exciting to watch Lincoln over the past years be on the cutting edge of breastfeeding mothers," Ann Seacrest, Exec. Director of MilkWorks, said.
The idea all started when Mike Miller was in attendance at the Pink Game about a year ago, and saw at least a dozen moms who needed to breastfeed.
"I just thought about the question, 'Where would they go?'" Miller said. "The answer was either the family bathroom or in the aid station."
But he decided that wasn't good enough.
With the help of the Lincoln City Council and the West Haymarket Joint Public Agency, Miller's idea was made possible. The kiosk cost $13,000 and was funded by JPA and Bryan Health.
"It's nice to go somewhere besides bathroom stall," Hershberger said.
If you have any questions or concerns about breastfeeding click here for La Leche League or here for MilkWorks.