Pinnacle Bank Arena hosts pregame party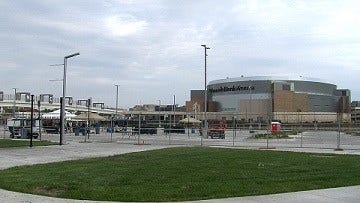 By: Brittany Paris
bparis@klkntv.com
Friday was the last Husker Baseball home game of the season, but before fans cheered on the team, they cheers-ed each other at a pregame event.
It's a parking lot party. Pinnacle Bank Arena hosted a Husker Baseball pregame party in the Festival Parking Lot, just north of the arena. Complete with hot dogs, brats, beers and music.
"It's an alternative, you know, you don't have to go al the way down to the Haymarket. It's close to the stadium," Ron Schinkel, who was at the pregame, said.
Arena staff say it's a great location, close to the Haymarket, the pedestrian bridge, and most importantly, Haymarket Park.
"You can still see the ballpark, you can still see the arena, it's a really nice setting. It's a great place to gather and meet some friends and it's a short walk over to the ballpark," Tom Lorenz, Pinnacle Bank Arena General Manager, said.
Peyton Burt stopped by the party with her friends on their way to the game.
"I wanted to be with my good friends and come before we went to the baseball game, drink a few brews and go to the baseball game," she said.
And others say they had a good time getting free hats and cozies.
"I hope they do it again. I had a good time," Middy Hughes, Lincoln, said.
The party started at 3:00 and ended around 6:30 because fans were leaving to go cheer on the Huskers.
"Go Big Red," Hughes said.
Pinnacle Bank Arena officials say they'll look into doing something like this again next year. They estimate a couple hundred people stopped by.