Pipeline opponents hold one more protest before Monday's big decision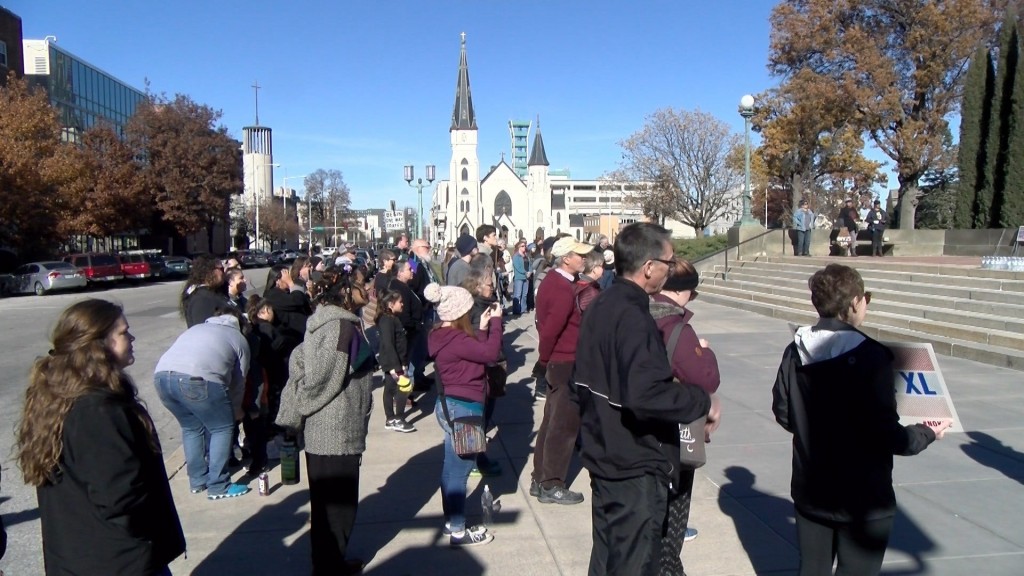 Around 100 people showed up at the Capitol to protest the Keystone XL Pipeline Sunday.
It's one final effort to tell the public why they think the pipeline would be bad for Nebraska, before the Public Service Commission votes on whether or not to approve its proposed route on Monday.

"They're the ones that decide that whether or not to let the Keystone come in," said Organizer Mechelle Sky Walker. "And so that's why we need to make a big presence that we as the public don't want this pipeline to come in. It's because it's a threat."

It's been a 9–year fight and Monday's decision is the last regulatory hurdle for the pipeline to clear.
Trans–Canada's proposed XL pipeline would carry around 830,000 barrels of oil per day through the sandhills from Canada, eventually connecting with the Keystone pipeline in southern Nebraska.
Keystone supporters, like Gov. Pete Ricketts, say it will create jobs and decrease dependency on foreign oil.
But the No KXL demonstrators say informing Nebraskans is key.
"President Trump made an executive order against us," Walker said. "So like I said, it's more so…I want Nebraskans to wake up about it—that haven't been involved."

On Thursday, the Keystone pipeline ruptured in South Dakota, leaking 210,000 gallons of oil into the ground.
Despite that, it is against state law for the Public Service Commission to factor pipeline safety into its decision, because safety is federally regulated.

"The Public Service Commissioners probably read the news just as much as I do," said Bold Nebraska's Jason Valandra. "They have to see that that's occurring. So, we're hoping it does affect their decision to make the right decision to stop the Keystone pipeline."

Nebraska is the only state that has not approved the XL pipeline.
Protesters say even if the commission approves the pipeline, they will continue to fight it in court and vote against politicians who support it.

Organizers said they will also hold a demonstration on 14th and N streets at 9:30 Monday morning where the commission will decide the pipeline's fate.
To watch the hearing, click here