Pius X Academic Decathlon Preparation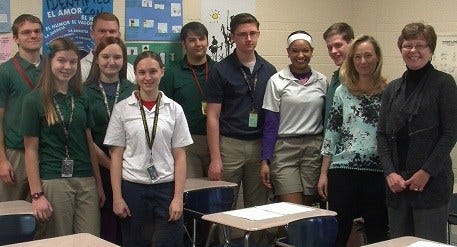 Posted By: Nolan Cranencrane@klkntv.com
Members of the Academic Decathlon at Pius X High School here in Lincoln are looking to repeat as the Aca–deca State Champions later this month in Omaha.
Their competition is similar to a quiz bowl where there are ten topics students have to master including art, economics, science and literature. They do so by using these tablets to quiz each other while others sort through hundreds of photos to learn who drew the masterpieces.
Some of the students are on the honor roll but the rules also require each team to have a mix of "B" and "C" students on the team. Regardless of their grades every student works hard and learns a lot by competing.
"It also has lots of different subject areas because you have to be good at math and art and music, so it's just super varied," says Philip Hanigan.
"The teachers involved in teaching it, we're passionate about learning as well and these kids are teaching us truly as we go along. We get our curriculum in march and we're asked to teach it in august and we don't have any problems saying lets learn this together and that's what happened," says Ann Kotopka.
The Academic Decathlon Championship will take place February 19th in Omaha. The winning school will advance to the national championship in Los Angeles.