Pius X Student Earns a Perfect ACT Score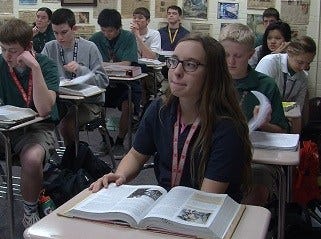 Posted By: Nolan Crane
A lot of high school students take the ACT with dreams of getting into a good college. For a junior at Pius X High School, his dream will soon be a reality after getting a perfect score on the test. Here's tonight's "Excellence in Education" report.
When Liam Kruse attends his advanced placement history class he might sit in the back, but his grades are the top of the class. Last year as a sophomore he came up two points shy of a perfect ACT score. Then, he hit the books and got a perfect 36 on the ACT this year.
He's not only active in the classroom, he's active on the field as well. He plays football and runs cross country. His coach and teachers say his presence in the classroom helps all of his classmates learn.
"I'm thinking about becoming an aerospace engineer and so I'm looking at some colleges such as MIT, Purdue and UNL has a really great program," says Liam Kruse.
"Liam is really to humble to have told anyone about his score. I found out through our guidance department. I wasn't surprised because he is truly an exceptional individual and will be successful in whatever he does," says his teacher Sister Jacquelyn Darner.
"He's a very intense individual and puts a lot of effort in everything he does which is something that makes you say wow, if we could just have more like him," says football coach Tim Aylward.
Liam s also a member of the chess club and academic decathlon team. His mother is a school teacher and he was actually home schooled from kindergarten through eighth grade. Liam gives a lot of credit to his mother for his perfect ACT score.