Planting season underway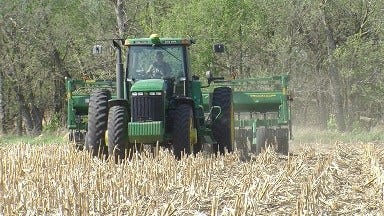 By: Jenn Hatcher
jhatcher@klkntv.com
Nebraska's spring weather has helped and hindered farmers when it comes to spring planting.
Statewide, ag producers will put over three billion dollars of corn seed in the ground this spring.
Work in the fields for many farmers was delayed due to cool and damp weather conditions, but in the last week, many have worked hard to catch up, like Alan Tiemann and his family.
"It's been busy, it's been good. We no-till everything so there's good moisture out there, we're putting our seed in moisture and so everything's working really well," says Tiemann.
The ground seems moist now, but Tiemann admits the dry winter had him worried.
He says most farmers in Seward County are close to done, just in time for the expected weekend rain.