Polar plungers raise thousands for Special Olympics Nebraska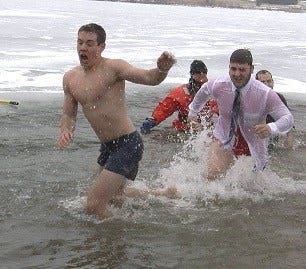 Posted By: Camila Orti
Snow, wind chill in the teens and a frozen lake was no problem for this year's Polar Plunge.
"The ice was about 12 inches thick when they went to cut it this morning," Event Coordinator Char Estes said.
More than 150 people got freezin' for a reason Saturday morning for the 10th annual Polar Plunge at Holmes Lake. The event benefits Special Olympics Nebraska. This year, organizers say participants raised close to $30,000.
"It was cold, you have to kind of mentally prepare yourself," plunger Melinda Lamp said.
For team "One Seuss, Two Seuss," the Plunge is a tradition they don't plan on stopping. Several of the team members are Special Olympics coaches, and know how important the experience is to the athletes.
"It's cool to see them in a different environment, participating and working on their social skills and being a good teammate," Coach Melissa Weber-Arnold said.
Estes says there are more than 5,000 people with intellectual disabilities across the state that compete in Special Olympics.
"We need to raise the money to cover the cost of travel expenses, food for when we go on the road for our competitions and this is a really fun way to do that," Coach Michael Decatur said.
If you didn't take the plunge, you can still donate to Special Olympics Nebraska by clicking here.