Gun-shaped lighter involved in downtown incident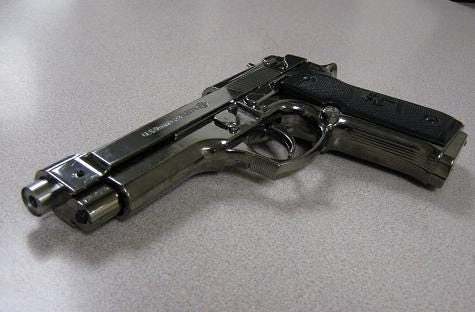 Lincoln police say what turned out to be a gun-shaped lighter ignited a chase into downtown.
Lincoln Police say Monday afternoon a passenger in a black BMW pointed what appeared to be a handgun at the driver of a pickup on Sheridan Boulevard after the two cars had been stopped side-by-side at an intersection. Police say the pickup driver, 42-year-old Kent Motschenbacher told officers he had pulled in front of the BMW in the roundabout at Sheridan and S. 33rd St.
Motschenbacher told Channel 8 he followed the BMW downtown after the passenger had pointed the gun at him. He said he feared for his life and was afraid they would leave town. He said he made the decision to follow the BMW and flagged another motorist during the chase. Police say the other motorist happened to be an off-duty firefighter who called 911.
Officer Flood says the two vehicles were stopped by police near 10th and R streets. She says Motschenbacher and the two men in the BMW were ordered out of their vehicles by officers.
Police say the gun turned out to be a lighter. Officers arrested the BMW driver, 21-year-old Andrey Bishko for willful reckless driving, and for not having a valid registration. 19-year-old Sergey Yaskevich, the passenger of the BMW, was arrested for disturbing the peace. Police say Yaskevich had pointed the gun lighter at Motschenbacher. Police also cited Motschenbacher for willful reckless driving.