Police called to "The 50/50" 190 times in 6 months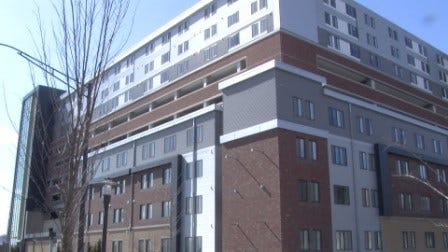 posted by: Laurann Robinson
Police have been called to a new building on the UNL campus almost 200 times in the six months it's been open. The apartment complex called "The 50/50" is gaining in popularity with local law enforcement, but not in a good way. Brand new, and located right on campus, you would think students would be fighting to live here, but its reputation may be causing some concern.
"If you're looking for a quiet place to study, I would not suggest living at The 50/50 building," said UNL Police Officer Sarah Luttig.
The big-city style building features sky high views and its own parking structure, but what's happening on the inside is a far cry from its glamorous exterior. One resident says even though the building is filled with students, the atmosphere does not really allow for much studying. Other residents say the building management has hired security to patrol the building at night, but that has not helped slow down calls to the building according to University Police. UNL police have come to the building 190 times since August, and for a wide array of reasons.
"190 range from a parking complaint to a vandalism. A lot of times it seems to be a disturbance, usually loud music is our biggest complaint we have there," said Luttig.
We reached out to management with "The 50/50″ for comment, but they have not returned our phone calls